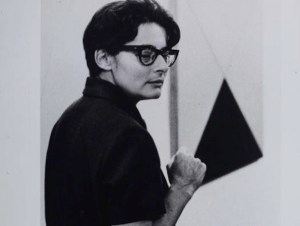 The estate of the late Swiss-born, São Paolo-based artist Mira Schendel will be represented worldwide by Hauser & Wirth, the gallery announced early this morning. A number of Schendel's elegant and restrained works on paper are currently on view at the gallery's Upper East Side location, part of the "Sensitive Gometries. Brazil 1950s-1980s" exhibition. 
Below, the announcement in full.
NEW YORK…Hauser & Wirth is pleased to announce its exclusive and worldwide representation of the Mira Schendel Estate. Born in Switzerland, Mira Schendel (1919-1988) is acknowledged as one of the most significant Brazilian artists of the twentieth century. Through partnership with the Estate, Hauser & Wirth is honored to promote the legacy of the artist through international exhibitions, publications, and the development of new scholarship.

Having emigrated from Europe in the years following the devastation of the Second World War, Mira Schendel settled in São Paulo, a dynamic and flourishing city in the midst of artistic revolution. There, she developed a vastly complex and unique body of work. During the early 1950s, Mira never aligned herself with the prevalent art movements of the time. Belonging to neither Brazilian Concretist nor Neo-Concretist groups, she worked furiously and independently to produce and exhibit her work.

Mira Schendel's art transpired from her engagement with the intellectual circles in which she explored and discussed her interests in aesthetics and philosophy. Though she distanced herself from the critical art debates that focused more directly upon evolving formalist trends, she participated as a central figure in the circulation of dialogue with many of the period's leading artists and thinkers. In the Brazilian art world, Mira's early abstract geometric paintings, rendered in deep earth tones, were recognized in solo exhibitions in 1950 and 1952. She participated in the first São Paulo International Biennial of 1951; received awards at the Salons of Bahia and Rio Grade do Sul between 1951 and 1953; and went on to hold her first major solo museum show at the Museu de Arte Moderna de São Paulo (MAM-SP) in October of 1954, exhibiting paintings from the 'Geladeiras' (Refrigerators) and 'Fachadas' (Facades) series.

Throughout the 1960s and 70s, Mira produced her most iconic works: the 'Monotipias' (Monotypes), 'Droguinhas' (Little Nothings), and 'Objetos Gráficos' (Graphic Objects). Executed on Japanese rice paper, these works are characterized by minimalist geometric motifs, delicate lines, or typeset letters that probed into notions of temporality and transience. Experimenting with ephemeral materials, Mira became increasingly interested in transforming letters and linguistic elements into objects — an approach most commonly associated with Concrete poetry. In her graphic works, letters are liberated and deconstructed, raising questions about language, writing, drawing, and image.

A spiritual sensibility governs the underlying poetics of Mira Schendel's work. Born into a German- speaking Jewish family, she was baptised and raised under the theology of the Catholic Church. Upon arriving in Sao Paulo, her interest in faith led her to approach the Dominican community. Striving to reach beyond the materiality of art making, Mira's oeuvre engages a dichotomy that explores transparency and opacity, spirituality and corporeality, to open up an understanding of our experiences of time, space, and movement.

Since her death in 1988, Mira Schendel's work has achieved both national and international visibility, heralded as one of the most important artists carrying on the legacy achieved by the Brazilian avant- garde. The first ever international full-scale survey of Mira Schendel's work is currently on view at Tate Modern, London through January 2014, travelling to the Fundação de Serralves, Museu de Arte Contemporânea, Porto and the Pinacoteca do Estado de São Paulo later that year.