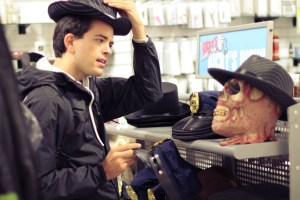 Everyone's approach to Halloween is different. Some dorks toil for weeks to create clever homemade costumes that will live in Instagram infamy. Others are just there for the booze, virtually forgetting the whole costume part until they duck into a Spirit Halloween store at the last minute.
If you're the lazy type, we've got some good news. On-demand delivery service WunWun is offering free delivery of Halloween costumes, Halloween candy, pumpkin beer–really, anything Halloween you can think of. 
All you have to do is download the WunWun app, decide on a costume that's available in most stores (slutty or normal, your choice), and possibly answer some questions from the WunWun helper assigned to you. The helper will wait in a horrendous line while you throw back your first Fireball shots of the evening in the comfort of your apartment. Piece of cake.
Delivery anywhere in Manhattan is free and usually takes a little more than an hour, cofounder Lee Hnetinka told us. Mr. Hnetinka also offered us some deets on WunWun's growth since their beta in January and their Sept. 4 launch. This month alone, the SoHo-based startup will complete 9,000 deliveries. And in November, they'll announce expansion of the service beyond the borders of Manhattan.
The company employs about 200 helpers. They're paid an hourly rate, plus $2 per request, and they'll deliver anything a bicyclist can carry from any store, Mr. Hnetinka said. WunWun doesn't skim revenue from the price of each item, as other delivery services like Seamless do. Instead, they collect profits from partnerships with stores or brands. For example, if a user clicks "pick for me" instead of selecting which store they want their product to come from, WunWun will choose a store it's partnered with, when possible.
The most popular products ordered through WunWun are groceries, electronics and alcohol. Some out-of-the-ordinary objects ordered recently: soil and mulch, shelves and a bottle of wood glue. The company has noticed predictable trends, like a surplus of booze orders on Friday and Saturday nights, and lots of requests for Mr. Chow's and ice cream on Sunday nights.
They also say that the service has proven highly addictive. When a user makes one request, there's a 25 percent chance they'll make another one. After the second request, the user's likelihood of using the service again goes up to 44 percent. A third request brings the probability of a fourth order up to 66 percent–and if you've used WunWun four times, there's a 99 percent chance you'll use it again, Mr. Hnetinka said. Some users will make four or five requests in one day, he added.
WunWun can deliver everything from your costume to your candy to your hungover breakfast the next day, proving yet again that the tech industry will not rest until we all have the freedom to be as lazy, self-absorbed and hedonistic as possible.