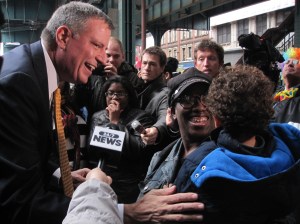 Mayoral front-runner Bill de Blasio made a rare appearance in the Bronx today, greeting excited voters, handing out candy to trick-or-treating kids and talking up his campaign's get-out-the-vote efforts in the election's final stretch.
"We are gonna work as hard or harder than ever for these last six days. We have a volunteer army–it is literally an army–that has gathered. If you think what we put out there in the primary was something special, wait'll you see what you're gonna see in these next few days," Mr. de Blasio told a large swarm of reporters huddled under the elevated tracks near Fordham station. "We're gonna hit very hard."
Mr. de Blasio, who is leading his Republican rival Joe Lhota by nearly 40 points in public polls, said that, despite his expected landslide, his campaign is doing everything in its power to get out the vote.
"I think it's very clear, up and down the operation, that we are moving heaven and earth to get our vote on Tuesday," said Mr. de Blasio, who spent much of his career managing other pols' campaigns. "The message we're sending everybody: We are running like we're behind. We're hard-charging right now. We're pushing every button we got. We are not taking anything lightly. And I think that is a signal that voters pick up on. I feel very, very good about the response we're getting all over the city. I think there's real enthusiasm. So I think people will be motivated to vote."
"It feels great, but it doesn't for a moment make me feel I can let down my guard. We have to keep workin'," he insisted.
After taking questions from reporters, Mr. de Blasio spent nearly half-an-hour greeting excited voters, who lineup on the sidewalk near the station to pose for photos, ask questions about issues, including stop-and-frisk, or ask Mr. de Blasio for help.
"Oh my God!" several women shouted at Mr. de Blasio approached. "Don't worry! You'll win! You'll win!"
Perhaps the most excited was Bienvenido Serrano, 47, who lives in the neighborhood and burst into tears after getting the chance to meet Mr. de Blasio and give him a hug.
"I'm excited," he told Politicker, tears streaming down his face. "I feel happy. My first time he shaked my hand. He's going to be a mayor!" Mr. Serrano complained that Mayor Michael Bloomberg hadn't done enough to help low-income New Yorkers or kids. "We need a new mayor," he said.
Others were left star-struck, as if they'd met a celebrity.
"It was awesome. I loved it. It's an experience I'll never forget," said Cynthia Burnett, who introduced Mr. de Blasio to her two-year-old grandson, Adrian, and said she felt it was time for a change.
"It's a blessing to meet him," echoed Samuel Agybman, 55. "He is the man for the job."
As he made his way down the line, a staffer handed Mr. de Blasio an orange pumpkin-shaped bucket filled with Twizzlers candy, which he handed out to little kids.
"How are you? What's your name?" he asked one little girl, crouching down to kid-level. "Can you say trick-or-treat to me? Alright! You're in."
"It's Halloween. He's already dressed as the mayor!" said Borough President Ruben Diaz Jr.