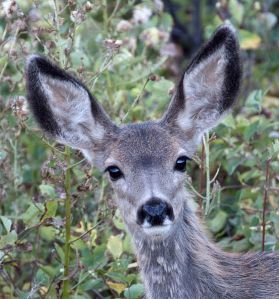 Please—and you thought singing karaoke with a chain-smoking Lindsay Lohan was the best way to spend a night in the East Village.
DNAinfo recently discovered the Village's newest Tuesday night trend: a Big Buck Hunter video game league at ACE Bar on East 5th Street.
For those of you that have never had the true A-MUR-ican pleasure of playing the video game, Big Buck Hunter is a game where you virtually hunt bucks—and, in later editions, other animals like elk and caribou—without killing any of the female animals. Because it was really sad when Bambi's mom died, you guys.
Organized by 31-year-old Matt Payne, NYC Big Bucks had six competitive teams of three to five players in its Fall 2013 season (team names were gems like "Good Will Hunters," "Nice Rack," and "Buck You"). The winners of each individual night received free bourbon and whiskey shots, and the winners of the entire season—team "I Like It When You Call Me Big Pappy"—won a $50 bar credit and a 50 percent discount on registration for the winter season.
Despite the fierce competition, there are no spit-filled post-game handshakes here. "Everyone willing to sign up…is probably someone that likes having a good time. Some people had never even played Buck Hunter before!" Mr. Payne told The Observer, "They just like cheap drinks and an excuse to do something ridiculous on a Tuesday night. I've met new friends from all over the City. I actually expected most people to live close to the bar but people came from Brooklyn, Murray Hill, UES, and even Hoboken.
And mind you, this isn't just some New York hipster-y trend, like urban gardening or dressing like a 19th century lumberjack (shout-out to you, man at the Bedford L stop last Saturday night). According to the video game's official website, Big Buck Hunter leagues exist all over the country, and operate on a surprisingly complex and official set of rules.
"League Night is a fun way to compete against your friends and other bar mates in the comfort of your own favorite watering hole," the site says.
Can't resist the pull of Big Buck Hunting? Or looking for a convenient excuse to ditch your Tuesday night trivia team? Sign up to compete in NYC Big Bucks' winter season here.
"The league is designed to be social and entertaining," Mr. Payne said, "Winter is cold. People should sign up if they like high-fiving, cheap drinks, team competitions, meeting new people, being in a war bar, or just need an excuse to do something no one back home is doing."