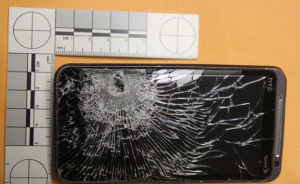 A smartphone filled with apps is only as good as the casing that surrounds it. That's what a Florida convenience store clerk learned yesterday after he was shot but his HTC phone stopped the bullet from seriously injuring him.
Police in Winter Garden, a suburb of Tampa, said that a man entered a gas station early Monday morning and demanded he open the safe. The clerk refused and being annoyed, the robber shot the clerk. But his injuries were minor, since his cell phone stopped the bullet.
The suspect is still on the loose.
Lt. Scott Allen from Winter Garden Police told Bay News 9 that the phone's location was a "miracle" or his injury could've been worse. He added:
"They were there for a while before they even realized that he had been shot. He had complained about having some chest pains and when they started looking in deeper, they realized his phone had a bullet lodged in it and it was damaged from it," said Lt. Allen.
Somewhere, an HTC exec is plotting a new ad campaign set to La Roux's "Bulletproof."