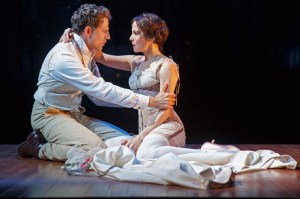 The opening line of what would be his final film, 1985's The Shooting Party, allowed James Mason the luxury of delivering his own epitaph. "Life," he declared in that voice that defined class and taste, "is so extraordinarily pleasant for those of us who are fortunate enough to be born in the right place." In the context of this film, however, that was good-bye to a generation of upper-crusts born in the wrong place: British aristocrats who never came back from the trenches of World War I.
These sad souls had their counterparts stateside, and they parade by, properly aflutter, in Sharr White's new play, The Snow Geese, bowing Oct. 24 at the Friedman.
"I started writing this play because a friend of mine said, 'You should write an American version of The Shooting Party,'" Mr. White told The Observer. "I felt this period really echoed, in a lot of ways, what we're going through now, with the financial decline and recovery—now, we're in another bubble again. It's like the end of the Gilded Age for America in 1917. There are a lot of common elements. I wanted to write about an era where I could talk of us today and still throw a veil over it."
At the center of this vintage chaos is Elizabeth Gaesling (Mary-Louise Parker, in widow's weeds) coping as best she can at the family hunting lodge. It is Nov. 1, 1917, and the snow geese are in season, migrating north into hunters' target sites. Elizabeth's doctor, who also happens to be her brother-in-law, gives her laudanum for her lingering depression over her husband's death. She has yet to process that her older son is a day away from being shipped off to World War I, or that her younger son, "the elderly 18-year-old," has found that his father has left them all in dire straits, necessitating selling the lodge and moving on.
Where there's The Snow Geese, can The Seagull be far behind? Guilty as charged, Mr. White nodded. "It does feel like there's a relationship to it," he admitted. "There are Chekhovian elements in it: It is a character-driven play, and it's about the end of an era. The Snow Geese is definitely a metaphor for this family. The way that the snow geese migrate is that they all come over in one giant flock and they all disappear."
A fragile female psyche is at the heart of this play, as it was last year with The Other Place, Mr. White's previous Broadway outing (his first).  Laurie Metcalf got shots at every theater award going for it, playing a brainy scientist fighting Alzheimer's.
Ms. Parker has dug into the role of Elizabeth Gaesling. "What I love about her is what I love about all of the characters I play—the flaws. There's a bit of delusion about her and a bit of denial. I find it romantic. She's just trying to be a mother. I can relate to that—it's a hard job. She's trying and failing and trying again."
By now, mother roles are familiar turf for her. "Fried Green Tomatoes was the first time I played a mother—I was 24—so I've been doing it a while. I just turned 49."
She called The Snow Geese love at first read. "I knew that it was something special within the first few pages. His writing is really impressive and poetic. By the time I was finished reading it, I wanted to hear it aloud and see if I was the right person for it."
Daniel Sullivan, who directed Ms. Parker to a Tony for Proof and picked up one for it himself, was likewise immediately drawn to the writing, "but one of the things that attracted me was the difference between this play and the other play—sort of a character-based play, almost Chekhovian in the way it deals with time. It's a family play, as most of Chekhov's plays are. Even the time period is somewhat Chekhovian."
He is using Chekhovian, he said, by way of referring to the play's sense of vitality, because it is also, of course, quintessentially American. "It's also a play about the pursuit of the American dream and that trap, which is a peculiarly American trap. This time period was the beginning of a worldwide consciousness about what can happen in a war—and a time when Americans felt that they made a difference. It was the beginning of America as the world police. It began with the First World War. It also has to do with American idealism on one side and then the sort of ruination of this family going on with that on the other."
Victoria Clark and Danny Burstein, who are usually found in musicals—they were married in the last Follies and shipmates in Titanic—head the strong supporting cast as Ms. Parker's sister and brother-in-law. She grounded herself for the 11-week run, leaving Cinderella's high-flying fairy-goddess to Burstein's off-stage wife, Rebecca Luker, to do in her absence. "The geese will have to do the flying in this one," she cracked, "but I'm still in the forest, just in another part of it."
The greater switch to a straight dramatic role was easy for her to make. "Look, I love to sing. I love to express myself through singing. I think God blessed me with a singing voice that brings a lot of people pleasure. It brings me a lot of pleasure. But at a certain point, I'm going to want to do things that aren't musical, and I'd better start doing that sooner rather than later. When this opportunity came, I jumped at it."