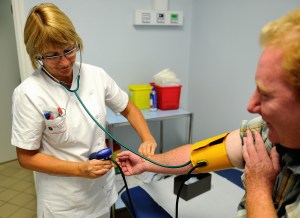 Imagine if your next false diagnosis of bone cancer or gout came from a real doctor instead of an automated database. This idea could be thrilling if you're a sane person who happens to dislike going to the doctor–not so much if you're an obsessive online symptom checker.
Either way, WebMD is getting closer to making it a reality. With their purchase of the health startup Avado, they'll be beefing up their doctor-patient interactions–and possibly giving the Internet's biggest hypochondriacs actual, not imagined, heart attacks.
Avado uses cloud technology to facilitate conversations between doctors and their patients, GigaOM reports. WebMD already lets doctors send health info related to "conditions, procedures and treatment to their patients who use WebMD's consumer mobile app."
The only question now is whether WebMD will ever bridge the gap and let doctors start treating all of the site's users, willy-nilly, instead of just their own patients. Until then, we'll continue to avoid the doctor's office and consult some extremely informative and enlightening Yahoo Answers pages instead.