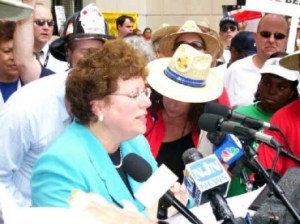 HAMILTON – Utilizing a tactic employed in other legislative contests this year, the Republican challenger in the 14th District Senate contest painted the incumbent with the so-called Corzine Democrat brush today.
Spencer Sullivan, campaign manager for GOP candidate Peter Inverso, seeking to reclaim the seat he held for 16 years before stepping down, issued the attack on Sen. Linda Greenstein Tuesday.
The point of attack – which Gov. Chris Christie has often used against challenger Sen. Barbara Buono as well – stresses that the lawmaker voted "consistently with Trenton Democrats'' to increase state spending and shortchange pension payments.
"When somebody agrees to work for the state as a public servant, they are promised that in exchange for their hard work, their health and future will be secure. Instead of ensuring that promise is kept, Greenstein instead voted with Trenton Democrats to pass Jon Corzine's budgets that underfunded and skipped pension payments, cancelled new health care payments for retired state workers and invested nearly $180 million in the failed Wall Street firm Lehman Brothers," Sullivan said in the release.
But Democratic spokesman Derek Roseman fired back. "Between being the deciding vote for Christie Whitman's pension bond scheme and the architect of the pension system's woes, and the job he did destroying Roma Bank, Pete Inverso is the last person to lecture anyone on fiscal prudence," he said.
Inverso was the head of Roma Bank when it was sold late last year to Investors Bancorp in Short Hills for $113 million. The sale led to a class-action lawsuit that claimed the price to the shareholders was inadequate.
The 14th is a district Republicans have targeted as one they think they can win if they are to have any hopes of reclaiming the upper chamber from Democrats.