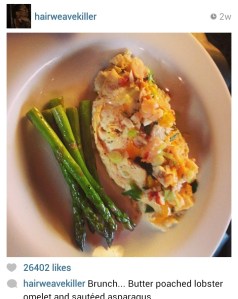 If you avoid Instagram on Sunday afternoons due to the endless stream of mimosa-and-omelet photos it yields, you may be missing an opportunity for weight loss.
A BYU study found that maybe, just maybe, "seeing photos of certain foods, as opposed to eating them, still gives you a feeling of satiation, which makes those foods less appealing" when you go to stuff them in your face IRL, TechCrunch reports.
Two professors recruited 232 people to rate pictures of food for the study, TechCrunch says. Half the participants rated pics of salty food; the other half, sweet. At the end, all were fed peanuts. The salty folks weren't so jazzed by the peanuts, having tired of saltiness because of all the pics, TechCrunch says.
"You do have to look at a decent number of pictures to get these effects," one professor is quoted as saying. "It's not like if you look at something two or three times you'll get that satiated effect."
We can all agree that looking at pictures of cheeseburgers is 1. easier than exercising and 2. better than keeping up with the militantly depressing #fitspo hashtag.