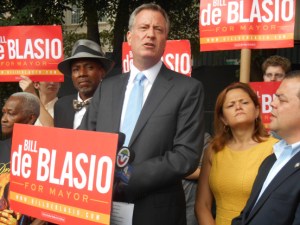 The role of an assemblyman's chief of staff in an independent expenditure that tried to defeat Councilwoman Melissa Mark-Viverito is drawing scrutiny in the Bronx.
Ms. Mark-Viverito and Assemblyman Luis Sepulveda were two of mayoral front-runner Bill de Blasio's earliest backers. But behind the scenes–as the two appeared together at press conferences–Mr. Sepulveda's chief of staff, Kenneth Thomas, was serving as a board member on a political action committee that had set its sights against her.
The group, Americans for Economic Justice, spent $1,615 to run a mailer attacking Ms. Mark-Viverito with a ghoulish-looking photo, according to city campaign finance records.
"Isn't it time we had an elected official who isn't using us for their gain?" it asked voters after laying out a litany of allegations against Mr. Mark-Viverito, the only candidate the PAC opposed.
It's unlikely the small expenditure significantly impacted Ms. Mark-Viverito's race in her newly redrawn district, which now spans across East Harlem and the Bronx. Nevertheless, the councilwoman had one of the worst re-election margins of any incumbent, winning just 35 percent of the vote against five challengers. Americans for Economic Justice backed the race's second-place finisher, Ralina Cardona.
Both Mr. Thomas and Mr. Sepulveda denied that the PAC's efforts were the result of any tensions between Mr. Sepulveda and Ms. Mark-Viverito, who declined to comment for the story.
"I have nothing to do with PAC's. I don't control what they do or don't do," said Mr. Sepulveda. "Melissa Mark-Viverito is a good friend of mine, someone I support wholeheartedly. I certainly wouldn't have endorsed someone to derail her re-election."
Mr. Thomas, meanwhile, insisted he wasn't trying to wage a proxy war on behalf of Mr. Sepulveda.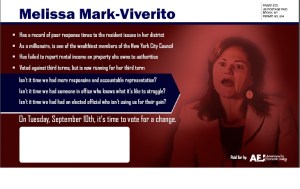 "As far as I can determine, there's no issue," he told Politicker. "Both supported and continue to support Bill de Blasio for mayor. From what I've seen, they have a cordial relationship."
He further claimed he'd had no role in helping the PAC decide which candidates to support or oppose.
"One of the issues I encountered at the onset of establishing the PAC was my involvement in the local political scene," Mr. Thomas explained. "Me being chief of staff for an elected official, I had a certain expertise needed to facilitate the creation of the PAC. I realized after the fact I had to remove myself from the day-to-day influencing of the PAC."
Several individuals with direct knowledge of the PAC contradicted this claim and told Politicker that Mr. Thomas did indeed play a role. (Thomas Musich, the administrative coordinator for the PAC, said it is up to board members like Mr. Thomas to decide which candidates to support.) Sources described a process in which Mr. Sepulveda and Mr. Thomas would jointly approach candidates seeking support from the district, offering a "robust" field operation and the PAC as a way to augment the campaigns of the candidates.
"Outside of my legislative association with Luis, I am also affiliated with a non-profit organization that has a large presence in the county," Mr. Thomas wrote in an email to one Bronx Democrat in April. "Additionally, some of my business associates and I have recently formed a PAC that will be active for the 2013 election cycle and beyond. We're looking to become really aggressive in the electoral context. "
The overlap raised eyebrows among some. Alex Camarda, the director of public policy at the good-government group Citizens Union, suggested that, in general, top-level aides should avoid being involved in independent expenditure efforts.
"If a chief of staff on a PAC's board is soliciting contributions for the committee and donors know he's working for Luis Sepulveda," Mr. Camarda said, "it can at least create the appearance of currying favor with Sepulveda on issues important to them."