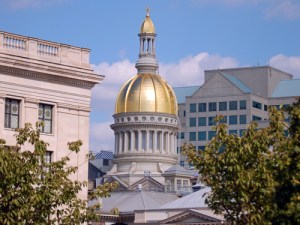 Independent expenditure spending in the state is on steroids, according to the state Election Law Enforcement Commission (ELEC), more than twice its previous all-time high.
And the election cycle isn't over.
Key legislative swing districts are drawing millions of last-minute dollars from outside groups as well as the two main parties, according to ELEC.
"Independent special interest groups have spent more than $35.4 million already on gubernatorial and legislative elections plus another $2.3 million to promote or oppose public ballot questions,'' said Jeff Brindle, ELEC's executive director. "This mind-boggling total of nearly $38 million, unprecedented in state history, is more than twice the previous record $14.9 million spent independently on elections in 2009. It's a whole new world in New Jersey politics."
So-called "outside" spending, which by law cannot be coordinated with candidates or parties, comprises nearly 35 percent of all election spending this year, compared to 16 percent in 2009, Brindle added.
Among the ten state elections that have drawn the heaviest independent spending since 2006, New Jersey ranks sixth, according to information available from the National Institute on Money in State Politics.
"We already are in the top ten state races of all time, and the election still isn't over," said Brindle. California ranks number one after independent groups spent nearly $86 million there in 2010.
In a release issued this morning by ELEC, Brindle said about three-quarters of all spending by the two major parties is taking place in the top ten legislative districts where a shift in seats could change control of the Legislature. He noted that the totals do not include millions of dollars more being spent by independent groups in many of the same districts but, due to disclosure limitations and time constraints, could not be immediately broken out by district.
Currently, Democrats control 48 of the 80 Assembly seats, and 24 of the 40 Senate seats. All 120 legislative seats are up for re-election this year. The office of governor also is in contention.
Among the special interest groups spending independently this year, a Super PAC operated by the New Jersey Education Association has emerged as the leading independent spender in this year's elections, spending an estimated $11.9 million so far on gubernatorial and legislative elections, ELEC says. Super PACs are not subject to contribution limits under recent federal court cases that permit unlimited independent spending. NJEA, which also has spent more than $1.4 million through its regular political action committee that is subject to regular state contribution limits, has never before spent more than $2.3 million on an election, according to ELEC research.