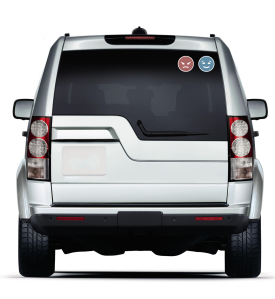 If you thought those "Baby On Board" car window decals were annoying, buckle up: remote-controlled smiley faces for your automobile now exist.
MotorMood is being market as "the status update for the back of your car," because there really was a hole in the market for products that make Facebook feel even more ubiquitous. From MotorMood's website:
"Now drivers have an easy and safe way to share their feelings with other drivers. Having a good day? Display the happy. Some jerk tailgating? Show your anger. See someone cute in the car behind you? Give them a wink. With MotorMood, driving becomes a little more human and a lot more fun."
The emoticons are activated by remote controls that attach to the car's sun visors, with a remote corresponding to each face. For example, if you're feeling pleased because your favorite song just started playing on Hot 97, you might tap the smiley remote so that the happy face on your car's rear-view mirror lights up.
If your crush is driving the car behind you, you might activate the winky-face. Then, you might brace yourself because there's a good chance they'll rear-end you.
The faces will be available in time for Christmas, so if you pull the name of your dorky cousin with the hot pink leopard-print seat covers in her Corolla at your family's Secret Santa this year, you're golden.
(h/t PSFK)