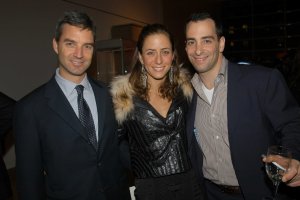 As you may have heard, Sotheby's is far from the first company to be on the receiving end of hedge-fund manager Daniel Loeb's ire. A source kindly passed along to Gallerist this note that Mr. Loeb sent over to the Gladstone Gallery back in 2001, after apparently being displeased about the way a director handled his interest in a Matthew Barney piece.
Essentially he threatens to "investigate" the gallery and publicize its business practices. You can enjoy the full letter below.
Hopefully someone is signing Mr. Loeb to some sort of book deal.
From: Daniel Loeb

To: [name and e-mail address of Barbara Gladstone employee redacted]

Cc: Barbara Gladstone [e-mail address redacted]

Subject: Gladstone Gallery Investigation

To facilitate your discussion with Barbara today, I wanted to send you some information about me and my business practices. You should know that I have based my business franchise on my ability to research complicated corporate structures. We also perform comprehensive background checks on management of these companies. When necessary we have utilized the press and the Internet to disseminate the facts that have come to us through our discovery and due diligence process. Sometimes these facts and opinions expressed are not flattering. I have been sued three times for libel and threatened many more times as indicated. You should know that in each instance the cases were dismissed and two of the three companies that brought the charges are now bankrupt. Just to be safe, I also maintain a $15.0 million umbrella insurance policy with Chubb to protect me against litigation. Someone once told me that "litigation is the sport of kings" and indeed, it is one that I seem to relish as I become more expert in its nuances.

I have also attached copies of 13Ds, filings with the S.E.C. that are filed when one acquires over 5%. I suggest you read these for a better understanding of my modus operandi. These companies run by the executives that we critique in these filings are multi hundred million dollar companies or in one case a several billion-dollar venture capital firm. In the Agribrands filing, we force a sale of the company and disclose many potentially unethical practices of the CEO; In the BindView filings, we expose the CEO of that company who is subsequently fired. We also disclose a pattern of deception and behavior resulting in litigation associated with General Atlantic Partners, its venture capital backer. An article in the Venture Capital Journal, the bible of that industry followed our filing.

Just this week we took a strategic position in Penn Virginia, a natural gas and oil company based in Appalachia. Needless to say, the filing and flurry of news articles that followed were not helpful to that management team's reputation. I have attached one such article for your review. Some have questioned whether the CEO of that company will keep his job.

It is not my intention to intimidate or frighten you. On the contrary, I am attempting to show you that I am a serious and experienced research analyst and am extremely familiar with the investigative process and well versed in what constitutes libel versus expression of facts and opinion. Accordingly, should you and Barbara not be able to come up with an acceptable solution, you can rest assured that the ensuing investigation will be conducted with the utmost fairness and honesty (unlike your conduct to date with me) and that the results of this investigation will be disseminated via all available means available [sic] including private correspondence, electronic and print media.

By the way, I spoke to [his wife] Margaret today from India. As you recall she loved the piece and was so excited at the prospect of having it in our home. She was even more shocked that [sic] I when I told her of your duplicity and deception in backing out of your commitment to sell me the Barney piece. She was just as sure as I that you had reserved the piece for me and not placed me on a wait list. Moreover, she also agreed that you did not say that the sale was subject to Barbara Gladstone's approval. Needless to say, after having attended your engagement party and having considered you a friend of ours, she is extremely disappointed that you would lie to us.

Regards,

Dan