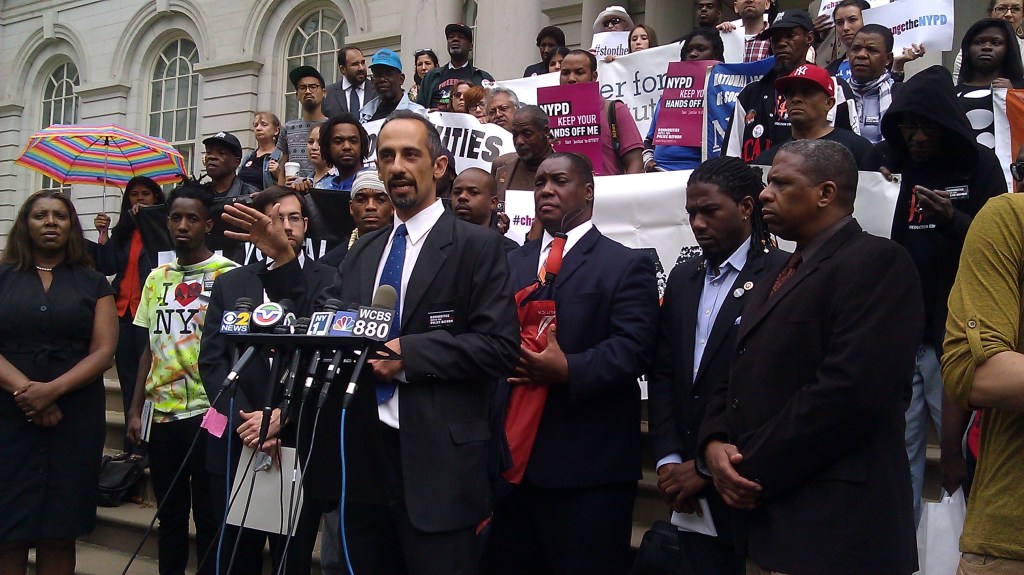 Police reform advocates denounced Mayor Michael Bloomberg on the steps of City Hall today, sharply criticizing the city's repeated attempts to bat back a court decision clamping down on the NYPD's controversial stop-and-frisk tactic.
"Let's be clear, I have never seen such arrogance—some hardheadedness, it must be a psychosis," declared Brooklyn Councilman Jumaane Williams, one of the leading advocates on the issue and a frequent critic of the Bloomberg administration. "That everybody can repudiate you as wrong on this issue and you still want your legacy to be as much damage to community and policing in this city as possible, that even on your way out you're doing as much as you can to send us in the wrong direction."
The rally comes not long after the Bloomberg administration filed an appeal in the Second Circuit Court of Appeals trying to halt implementation of a court ruling by Judge Shira Sheindlin that found the city's implementation of stop-and-frisk unconstitutional. The city's first request for a stay was denied. Today, plaintiffs in the case, as well as Council Speaker Christine Quinn and mayoral candidate Bill de Blasio, were expected to file motion opposing any additional delays.
While the Bloomberg administration has threatened that permitting the reforms would put public safety at risk, the advocates who gathered on the steps of City Hall today–chanting "Stop the stay!"–disputed the logic and argued that the public's frustrations with the policy were irrefutable.
"There has been a clear, abject repudiation of this administration on policies at every level in this city—not the least of which stop and frisk," argued Mr. Williams.
"Justice delayed is justice denied," piled on Democratic public advocate nominee Tish James. "The rain today represented the countless number of people who cried because they did absolutely nothing wrong. And all that they wanted was to be treated as equals … Mr. Mayor respect the law, respect the Constitution," she added, "The gig is up."
Darius Charney, the lead stop-and-frisk reform attorney for the Center for Constitutional Rights, also made the case that the city's appeal was "absurd" and just a legal maneuver to delay action.
"They think it is harmful to engage in a dialogue," he said of the mayor and police commissioner as members of the crowd jeered. "They always did."
However, it may take some time before the appeal is heard. Mr. Charney said the actual merits of the appeal will not be heard until the spring at the earliest–long after Mr. Bloomberg is out of City Hall.