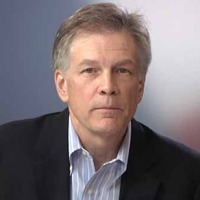 Jim Roberts is the new executive editor and chief content officer at Mashable, he announced this morning in a post on Mashable.
"Today is an exciting day for me. I'm joining a new family, as executive editor and chief content officer at Mashable," Mr. Roberts wrote. "To some it might seem a bit of a departure. You might imagine a headline like: "LongtimeNew York Times and Reuters veteran forsakes legacy media for digital upstart."
But, Mr. Roberts wrote, the moves actually makes total sense (despite the hypothetical headline):
"Although this is the beginning of a new journey, it also feels like the natural progression for an editor who loves the news and loves even more the opportunity to experiment with new and innovative ways of spreading it to an audience — and growing that audience in the process."
It has certainly been a big year, career-wise for the prolific tweeter. Mr. Roberts took a buyout from the Times in January and landed at Reuters as the executive editor of Reuters digital in February. Mr Roberts left the company in September, when Reuters cancelled Next, its consumer-facing website that had been in the works for more than two years.