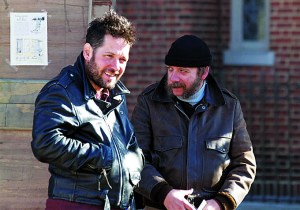 Lethargic and pointless, poker-faced comedy All Is Bright is a big waste of time about two French-Canadian jerks who hit on a scheme to make money by selling Christmas trees in New York City. Dennis (Paul Giamatti) is a thief on parole who, after serving five years in prison, returns to a hostile wife who hates him, a child who thinks he died of cancer and no home or prospects for employment. Rene (Paul Rudd) is his former partner in crime who has gone straight and is now engaged to marry the estranged wife he left behind. After a violent fight, they hit the road together in Rene's truck for no logical reason and cross the Canadian border, breaking Dennis's parole. Nothing works. Everything fails. They pick a vacant lot in Brooklyn filled with garbage—across the street from a well-organized lot of prime trees from Vermont—force the salesman off the block, then proceed to cajole, intimidate and terrify their own potential customers. Bad weather, poor sales and distracting shtick dominate the lack of action while the audience dozes.
Nothing happens, there is no plot, and a lot of the dialogue is even spoken off-screen. Mostly, the two scruffy stars drive away customers fighting over Dennis's wife. When it almost collapses from quiescence, Sally Hawkins makes a bizarre appearance as an immigrant Russian maid who works for a nearby dentist. She gets drunk and dances a czardas. Does anybody connected with this cinematic Valium know what they're supposed to be doing? The alleged "comedy" is too lame to make you laugh, and the poignancy is nonexistent. All Is Bright just wanders all over the place searching for some sort of guidance that director Phil Morrison (Junebug) never manages to provide.  The script, by Melissa James Gibson, is as scintillating as a dead rodent.
ALL IS BRIGHT
Written by: Melissa James Gibson
Directed by: Phil Morrison
Starring: Paul Giamatti, Paul Rudd and Sally Hawkins
Running time: 107 min.
Rating: 1/4