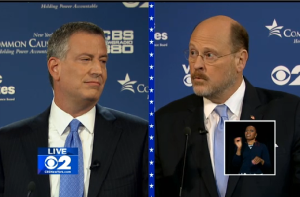 Bill de Blasio and Joe Lhota tangled bitterly in the second mayoral debate of the general election, butting heads on stop-and-frisk, a controversial campaign ad and the legacies of the Giuliani and Dinkins administrations.
Mr. Lhota, hinting that he'd ramp up his attacks after a far milder performance during their first face-off last week, this time came out swinging, painting Mr. de Blasio as an ineffectual, partisan politician whose election would result in the return of violence to city streets.
"Look, we are one mayor away from unsafe streets, unsafe schools and unsafe fiscal policies," warned Mr. Lhota in his closing remarks, asking, "In two weeks, when you go to vote on November 5th … Do you want your vote to be safe or sorry?"
He also came equipped with a host of colorful one-liners, asking Mr. de Balsio, at one point, "What color is the sky on your planet?" "You talk so much about tea, you remind me of the Mad Hatter," he later quipped.
But Mr. de Blasio, who is leading by more than 40 points in recent polls, gleefully rebuked his Republican rival, repeatedly accusing Mr. Lhota of "fear-mongering" and "misrepresenting" facts. Among the most heated arguments came as Mr. de Blasio went after Mr. Lhota's most recent TV ad, which threatens the return of high-crime if Mr. de Blasio is elected mayor–complete with body bags and a scared old lady.
"It's fear mongering. It's race-baiting and it's fear-mongering and you know it, you know it," charged Mr. de Blasio, as the two began a heated exchange.
"Stop. There's nothing race-baiting about it," insisted Mr. Lhota.
"There's nothing race-baiting about it?" Mr. de Blasio challenged.
"You wanna throw out the race card?" shot back Mr. Lhota. "Let's talk about the various different mass cards that are put out for the thousands of people that are killed in this city … Don't tell me I threw out the race card because there is nothing racial in there, and Bill, you cannot stoop that low."
Mr. de Blasio quickly fired back, instructing Mr. Lhota to  take another look at his own ad, before the conversation shifted to a debate over the legacies of Mr. Lhota's old boss, Rudy Giuliani, and Mr. de Blasio's old boss, David Dinkins.
"Anybody who looks at that ad knows what he's up to and it's what his boss Rudy Giuliani used to be up to and it's not what a mayor should be doing," said Mr. de Blasio, drawing fire from his rival.
"Look I am getting sick and tired of you impugning the integrity of Rudy Giuliani," bellowed Mr. Lhota, insisting that Mr. Giuliani was the man "who created the renaissance in this city, who started the programs to make all New Yorkers safe, to expand our economy, to expand our jobs."
The debate also had some more light-hearted moments, including when Mr. Lhota was forced to explain why he'd called Mayor Michael Bloomberg an "idiot" in the aftermath of Hurricane Sandy.
"The fact of the matter is I have always called it the way I see it. I will do that as mayor," Mr. Lhota said.
After the debate, a buoyant Mr. Lhota told reporters that he'd felt more comfortable in his second showdown with Mr. de Blasio.
"Last week in the debate, I thought we came there to talk about issues. He came there to just bludgeon me with the Tea Party, Tea Party, Tea Party," Mr. Lhota said. "I'm still prepared to discuss issues, but if he wants to play that way, go for it. It's like a boxing match. It's all coming down to the last round. I'm looking forward to next week."
Seemingly dodging the single "knock out" blow that could slow his overwhelming momentum, Mr. de Blasio again tweaked Mr. Lhota after the debate by comparing his recent campaign ad to the infamous "Willie Horton" commercial.
"The bottom line here is, I'm offering a vision for the future of this city," Mr. de Blasio said. "Today, by the way, is the 25th anniversary of the first airing of the Willie Horton ad and how apropos."
The two will face off for the last time next week.