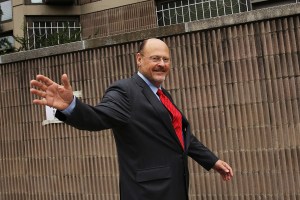 Although he condemns his party's federal representatives for the partial government shutdown currently gripping Washington, Republican mayoral candidate Joe Lhota today endorsed one of their top demands: delaying the individual health care mandate.
"It should be delayed for one year," Mr. Lhota flatly said this morning in a WNYC radio interview with Brian Lehrer. 
"I think there's so much confusion about the individual mandate right now, both within the administration and outside of the administration," he argued. "You should not be implementing policy unless you know exactly how it is going to be implemented."
However, when it comes to the Tea Party-backed goal of completely defunding President Barack Obama's signature health care legislation, Mr. Lhota said he is "not in that position at all" and blasted both Democrats and Republicans for failing to end their standoff.
"The shutdown is a disgrace," he charged. "It should never have happened. People who go to Washington are elected to govern. What they're doing is a complete and total absence of governance. They don't realize how damaging it is going to be to them personally as well as to the party. People need to come to the table and they need to negotiate. This country is about compromise."
"I cannot tell you how upsetting it is for me to see 30 extremists in Washington control the entire government. There's something very, very wrong doing on," he further lamented.
Mr. Lhota's Democratic opponent, Bill de Blasio, has repeatedly hammered his rival over his party registration and tried to tie him to more conservative Republicans in Washington. Mr. de Blasio is far ahead in the polls but nevertheless has been trying to cement that lead by depicting Mr. Lhota as out-of-touch in a Democratic-leaning city.
On his own radio appearance this morning, Mr. de Blasio again criticized Mr. Lhota for not doing enough to disavow his party's hardliners.
"This is not the first time the Republican party has forced a government shutdown," Mr. de Blasio said on AM 970's The Answer with Curtis Sliwa. "But this party doesn't represent values I think most New Yorkers hold. And I think if someone's a member of that party, they shouldn't just idly by and let it move farther and farther to the right."
Update (1:02 p.m.): Mr. de Blasio's campaign spokesman, Dan Levitan, released a statement slamming Mr. Lhota over his position on the individual mandate:
"Joe Lhota says he is a different kind of Republican, but when push comes to shove he sides with the GOP fringe. His endorsement of delaying Obamacare puts him in lockstep with Republican extremists like Ted Cruz — extremists who would rather shut down the government and furlough thousands of New York City workers than see hundreds of thousands of New Yorkers get access to health care. Joe Lhota's positions might help him with the Tea Party, but they are wrong for New York."
Additional reporting by Jill Colvin.