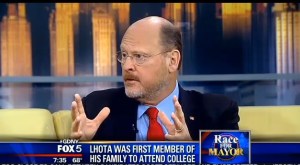 Joe Lhota may have spent much of last night's first debate on the defensive, but he came out swinging this morning during an early interview on Fox 5.
The Republican mayoral candidate not only went after his opponent, Bill de Blasio, but attacked former Mayor David Dinkins and former Police Commissioner Bill Bratton–who was appointed by his former boss.
The hits came after Mr. Lhota took issue with Mr. de Blasio's assertion last night that Rudy Giuliani–under whom Mr. Lhota served as budget director and deputy–was a divisive mayor. But Mr. Lhota argued that Mr. Dinkins, whose administration Mr. de Blasio served in, was the divisive one.
"Like David Dinkins wasn't a divisive mayor? The man who crime went to levels that we have never seen before in the City of New York," charged Mr. Lhota.
"David Dinkins–more people died when he was mayor than anything you can possibly imagine. How dare he impugn the integrity of Rudy Giuliani! Because of him and the reductions in crime, so many more people are alive today," he continued. "If Bill de Blasio thinks he's a perfect man and he thinks David Dinkins is a perfect man and they have the right to, you know, scorn former Mayor Giuliani, they're absolutely wrong."
His assessment was nearly as negative when it came to Mr. Bratton–whom Mr. de Blasio has said is a potential pick for police commissioner in his hypothetical administration. (Mr. Bratton was forced out out of the Giuliani administration, according to some reports, because he was getting more credit for crime reductions than the mayor.)
Mr. Lhota today declared Mr. Bratton "the most egotistical police commissioner we've ever had" and knocked him as a potential successor to Ray Kelly.
"There is no doubt in my mind that, under Bill de Blasio–including the people he's thinking of making police commissioner–crime will go up," Mr. Lhota asserted.
Mr. Lhota, who is distantly trailing Mr. de Blasio in the polls, further acknowledged that he hadn't delivered the "knock-out blow" he needed last night to turn the election around, but said it isn't over yet.
"It always comes down to the last round," he argued.
Mr. Dinkins and Mr. Bratton did not immediately respond to requests for comment. A spokesman for Mr. de Blasio declined.