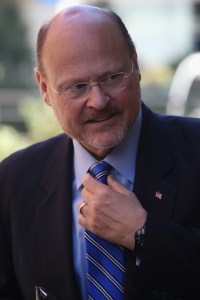 Republican Joe Lhota, fending off repeated attacks from his Democratic rival, Bill de Blasio, that he is too right-wing to become mayor of New York City, was forced to defend himself tonight after a video surfaced that showed him telling conservatives that gun permits should be easier to obtain in the city. 
"The City of New York … goes to an extreme with their–bureaucracy is not even strong enough of a word," Mr. Lhota told a Staten Island Tea Party group in April, NY1 reported this evening. "It's almost a level of harassment at a certain point and it needs to change. There's something that should be fair and speedy about being able to get a gun permit."
Pressed on the issue in a Road to City Hall interview tonight, Mr. Lhota said he was referring to people who were renewing their licenses, not those looking to obtain a gun for the first time. The brief video clip does not contain this context and it was not immediately possible to verify Mr. Lhota's nuance.
"The question was about being able to get a new permit. You know, you need to have one every year–these are people who legally have guns who have shown that they have a need for it," Mr. Lhota explained in the interview. "What's gone on is, those people who legitimately need it, it's getting harder and harder and harder for getting the renewal license, which is required and should be required once a year."
"They shouldn't be making it hard," he continued. "These are not people with illegal guns, these are people who have legal permits to carry and the city is making it harder and harder. The city oughta take its resources and do everything it possibly can to get guns off the streets of New York–illegal guns."
Mr. Lhota emphasized that he had otherwise been highly critical of the Tea Party, particularly in Washington, where he blamed the group for partially shutting down the federal government.
The de Blasio campaign did not immediately respond to a request for comment, but they did post the NY1 video on their Tumblr.