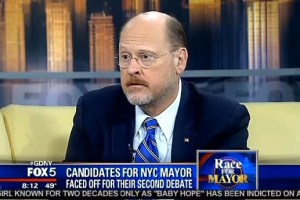 Joe Lhota picked up where he left off after last night's debate, continuing to slam his rival Bill de Blasio and insisting he can still win the mayor's race during two early-morning television interviews.
"I love the challenge. I don't find it daunting. It gives me an opportunity to go out there and make my point," Mr. Lhota said today when asked about his uphill battle on PIX 11, turning to a baseball analogy.
"Do you ever play sports? You ever been down? You wanna win … I need a grand slam," he declared. "And I saw Papi do one last week. I was in Boston. It can be done."
With less than two weeks to go until Election Day, Mr. de Blasio also insisted he still has a chance, despite trailing by more than 40 points in the latest polls.
"There's a momentum's moving in my direction, people are realizing how dangerous Bill de Blasio would be as mayor, realizing that Bill de Blasio has all these lofty words, but when–what's interesting last night, when asked for more details, he couldn't give details. All he wants to do is turn around and attack me," he said, repeated his argument that he is, in fact, closer to the electorate than his rival on several major issues.
Among those, Mr. Lhota said, was crime, and he continued to fight one of the most heated arguments from last night: his controversial new television commercial.
"It's the truth," said Mr. Lhota of the spot, which implies a de Blasio administration would return New York to the era of high crime and race riots. "No one should ever say that the truth is divisive. I mean, it is the truth. His policies will take up backwards."
"His policies about crime and crime reduction are reckless," he said not long after on Fox 5's Good Day New York. "He will throw us back to the era when David Dinkins was the mayor where we had 2,000-plus murders a year."
Mr. Lhota also concurred with the general consensus that found he significantly improved on his first debate performance, which some critics panned as lackluster.
"I was looser. I was prepared. I wanted to have fun," Mr. Lhota said, "and I think I did."