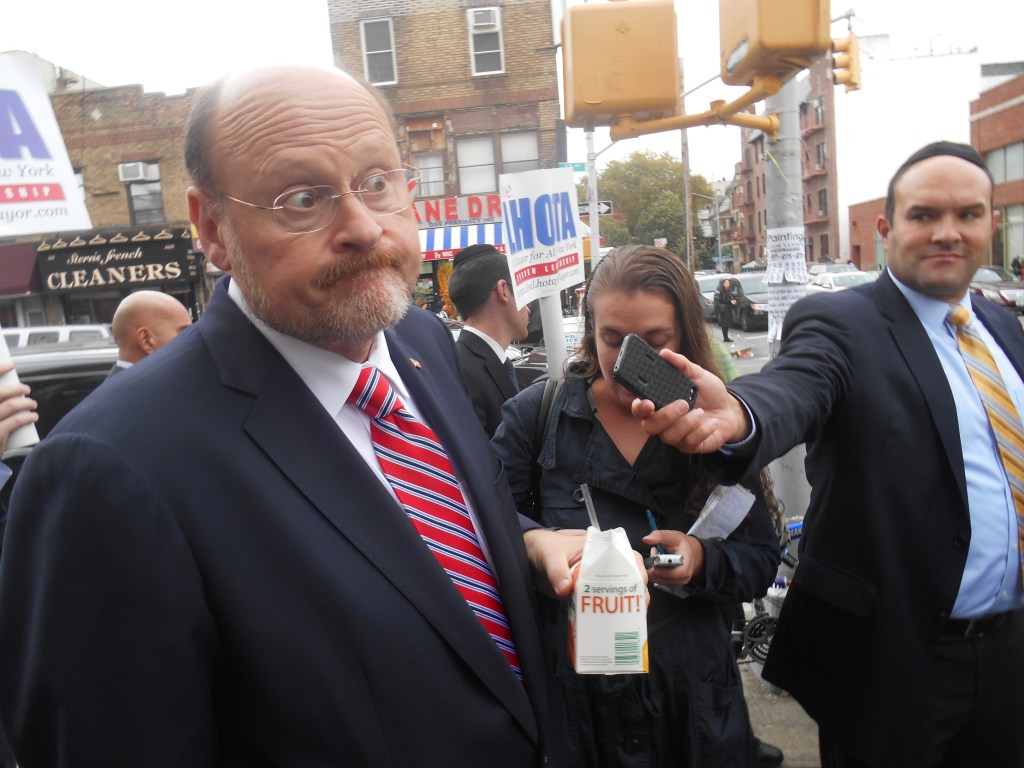 Enraged by suggestions that his latest campaign ad is divisive and potentially race-baiting, Joe Lhota slammed his front-running opponent in the mayor's race, Bill de Blasio for comparing his commercial to the infamous "Willie Horton" ad.
"I think this is about Bill de Blasio and his inability to have a vision at all," Mr. Lhota groused to reporters at a campaign stop in Boro Park today. "What you should do is go look at the Willie Horton ad and then ask yourself why they would make such a ludicrous comparison."
Mr. Lhota, who is trailing badly in the polls, went on to argue that his rival's aggressive debate performance last night was predicated on willful lying. During the debate, Mr. de Blasio repeatedly tried to tar Mr. Lhota, who is liberal on social issues, as a Tea Party-aligned extremist.
"I realized how vacuous Bill is and all is he wants to do is bash me and categorize me as something I'm not," Mr. Lhota fumed today. "Not once did he talk about issues, not once did he give his vision for the City of New York. Look, people in New York City turned on their television last night for the purpose of seeing his vision against my vision and all they got was this six-foot-six guy saying things about me that weren't true."
Mr. Lhota's controversial, no-holds-barred ad, which was released this morning, features images of corpses and race riots, and warns about the city's future if Mr. de Blasio is elected mayor. Mr. de Blasio called the ad "desperate" and "divisive" and several Democrats, including City Councilwoman and public advocate nominee Tish James, called on Mr. Lhota to take it down. Mr. Lhota, however, flatly refused.
"It's not using scare tactics," he insisted. "Bill de Blasio has no background whatsoever when it comes to public safety. And what he has said about public safety shows a level of naiveté that would throw us back to what New York City once was. There's nothing divisive about that ad at all."
"That ad talks what I believe is the truth. He will send us backwards," he continued. "He will make this city more dangerous again. His treatment of New York City police officers, his statements about New York City police officers, his support of bills that handcuff New York City police officers, is contrary to where the city needs to go."
He further promised more commercials of a similar tenor in the coming weeks: "This is the first of many commercials that I know will define and describe what I believe Bill de Blasio is."
Mr. de Blasio's campaign said he stands by his original remarks about the ad.