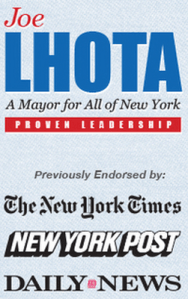 Joe Lhota is still touting old endorsements in the mayor's race.
Up until yesterday, Mr. Lhota's campaign's Twitter page prominently featured endorsements from the city's three largest newspapers, even though they only backed him in the September 10 Republican primary when he was up against John Catsimatidis and George McDonald–not the November election.
After Politicker inquired about the background, the page was updated late last night to include a caveat in small letters: "Previously Endorsed by."
All three publications–The New York Times, the Daily News and the New York Post–have yet to endorse in the November election.
Some supporters of Bill de Blasio, the front-running Democratic candidate, quietly grumbled and said they still felt the change was misleading, but the de Blasio campaign declined to comment. (Technically, Mr. de Blasio has also been "previously endorsed" by the Times.)
Mr. Lhota's campaign spokeswoman Jessica Proud blamed the issue on a  "glitch."
"[I]t was changed right after the primary. We updated it on twitter and the website, but there was an odd glitch that caused it to revert," Ms. Proud wrote in an email last night. "I'm told it was fixed last week but glitched and then was fixed again today."
The same wording appears on his campaign website, joelhotaformayor.com.