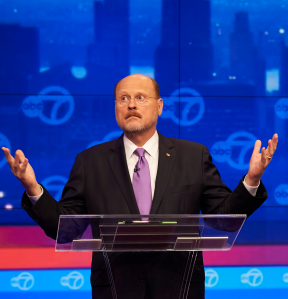 Republican mayoral hopeful Joe Lhota wants to govern the city like a World War II general.
"I want to be, as mayor, somebody like General George Patton. I want to take charge," declared Mr. Lhota in an interview this morning on JM in the AM, a Jewish radio show hosted by Nachum Segal.
The candidate was railing against the city's response to Superstorm Sandy, which he described as "embarrassing," nearly one year after the storm.
"Quite honestly I'm amazed at the lack of concern about what's gone on in the Rockaways and in the southern part of Brooklyn and the south shore of Staten Island. We still have, one year later, people not able to go into their homes," Mr. Lhota said.
"People should not be out of their homes one year later. The boardwalk in the Rockaways should be done," he added. "[New Jersey Gov.] Chris Christie got his done. Why can't we get ours done?  It really, really concerns me."
The morning radio appearance also included some rare candid moments from Mr. Lhota, who remains 40 points behind in the polls with just 12 days left to go until Election Day.
"This the very first time I've run for office. I think it's noticeable," he joked about the experience, which has also opened the door to new media scrutiny.
"I worry all the time, every time I take my dog out to walk, 'Jeez, what am I wearing?' Because I have to worry that the New York Daily News may be taking a picture of me–or worse, picking up after my dog, which is a photo I don't want in the paper, but nonetheless its the law and we must do it," he said.
And, despite his underdog status against Democrat Bill de Blasio, Mr. Lhota said he remains confident in his chances of winning on November 5.
"We've got 12 days in this campaign to go," he said. "I'm going to stretch the limit and see how far I can stay up every day and how little I can sleep."