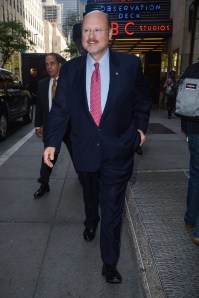 After spending a week or so leveling "Marxist" accusations against his Democratic rival, Joe Lhota has switched to a new talking point: managerial experience.
Over the past 48 hours, the Republican mayoral candidate has repeatedly skewered Bill de Blasio for failing to oversee any significant budget over the course of his career. This contrasts starkly, Mr. Lhota says, with his role heading the MTA for Gov. Andrew Cuomo and managing the city budget and serving as deputy mayor under former Mayor Rudy Giuliani.
"Bill has never managed anything. He's never had a job in his life that wasn't a government job or a not-for-profit job. He doesn't have the wherewithal to be the next mayor of New York," Mr. Lhota charged in a Fox 5 interview this morning. "Poke little holes into Bill and see what he's been able to do in his past and why he doesn't have the requisite skills or ability to be the mayor."
This echoes comments made by Mr. Lhota at a campaign stop yesterday, where he argued that Mr. de Blasio's tenure in the public advocate's office and his work managing Hillary Clinton's successful 2000 Senate campaign just didn't compare to his own résumé.
"I've run major entities with large budgets, the MTA's budget … The biggest budget he ever ran isn't the public advocate's office. That's just $2.3 million," Mr. Lhota said last night at a forum hosted by the Brooklyn Real Estate Board. "It was when he was a campaign manager for Hillary Clinton's campaign becoming a United States Senator. The reality is, the difference between the two of us is stark on almost every level."
In an email to supporters, Mr. Lhota's campaign piled on further.
"Joe Lhota managed our city after 9/11 and he got our subway and public transit system up-and-running in less than 72 hours after Superstorm Sandy. The largest thing Bill de Blasio has ever managed is his current campaign for Mayor. Bill de Blasio is NOT ready to be our mayor," wrote Nick Iacono, Mr. Lhota's deputy political director.
The de Blasio campaign not immediately return a request for comment, but when pushed on the topic in the past, Mr. de Blasio has also pointed to his experience as a regional HUD director in the Clinton administration as well as managing Ms. Clinton's campaign.
Mr. de Blasio is currently far ahead in the polls, leading by 50 points in today's Quinnipiac University survey.
Additional reporting by Jill Colvin.