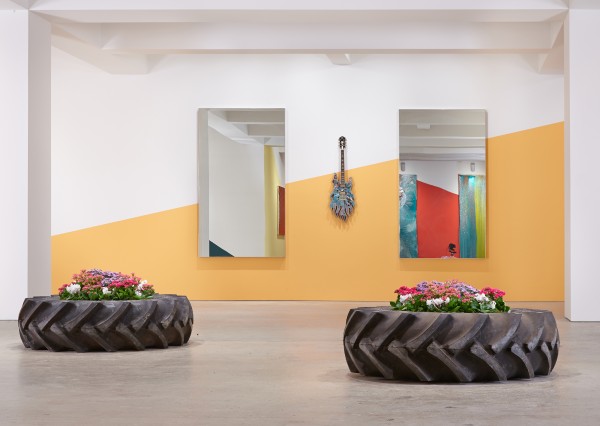 Last fall, an immaculate survey of John Armleder's "Furniture Sculptures" at the Swiss Institute positioned the veteran provocateur as a Zen master of ready-made sculpture and slick design art, with a sprinkling of surfboards, a goldfish-colored drum set, a sparingly painted sofa and a few other curiosities. Now, a year later, Nahmad Contemporary is offering the wily, madcap version of Mr. Armleder in an action-packed commercial exhibition that suggests a Hollywood take on the artist.
As usual, Mr. Armleder is impossible to pin down—to the uninitiated, it may look as though at least three different artists have provided work to the show. For a reprisal of a 1967 piece, each wall has been divided in half at a diagonal; one half is white, and the other is light yellow, purple, red or another color. The effect of this is disorienting. Paintings hang against these backdrops—a wavy green and pink Op number from 2008 (that could have been made in 1968), as well as others that are caked with epic layers of paint and glitter—and are breathtakingly, knowingly garish and sickeningly beautiful. They're send-ups of the sort of overwrought abstraction that surfaces every decade or so. Like a make-your-own-sundae buffet, they invite you to celebrate excess, even as you know it's probably unwise. Mr. Armleder revels in such aesthetic quandaries. If his outrageous abstractions are too much for you, he has also hyperbolically supersized another collector fetish: two huge mirrors, which he has paired with a mirror-plated guitar.
Usually the results of Mr. Armleder's hare-brained experiments dazzle—you can't help but succumb to the combination of a tiger-striped guitar and tiger-striped canvas—but occasionally, as in a pile of two-dozen Flavin-esque fluorescent lights or monster-truck tires planted with flowers, it all becomes a little too hare-brained, too obvious.
But while ostensibly noncommittal in matters of taste (neutrality being a very Swiss brand of cool), he's not random. Investigating the matter of taste, he's luring you into confronting your own. (Through Nov. 2)