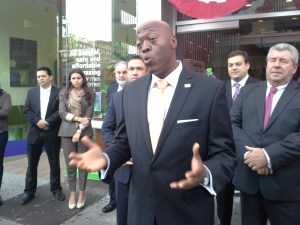 Although the mayor's race has drawn most of the media coverage ahead of the upcoming November election, Republican comptroller hopeful John Burnett is also chugging along and trying to make the case for his uphill candidacy. 
This morning, Mr. Burnett rolled out the endorsement of Congressman Michael Grimm in Brooklyn and argued that his financial credentials make him a better pick than his front-running rival, Manhattan Borough President Scott Stringer.
"If you were hiring somebody to monitor your own investment or if you were a CEO and had a fiduciary responsibility to make sure that you're earning the right return for your shareholders, you want to hire the chief financial officer to help you grow the business with the right competence," Mr. Burnett, a Wall Street veteran, told Politicker at the Bay Ridge event. "It's no different here. Voters should actually vote for someone with the right experience, right competencies and right know-how to make sure we're growing New York City financially."
Mr. Grimm's endorsement of a fellow Republican comes as no surprise. But his talking points today revealed that Mr. Burnett's campaign is relying on some of the same lines of attack that Mr. Stringer weathered during his ferocious Democratic primary against ex-Gov. Eliot Spitzer, including that Mr. Stringer, a veteran public official, is too beholden to the powerful interests to hold them accountable in the comptroller's office.
"I think John Burnett has a tremendous advantage for this particular position and that advantage is very simple: private sector experience," Mr. Grimm argued. "He is not a bureaucrat, he has not been reared in New York City politics, coming up through the ranks."
"And why is that important?" he asked. "Because when you've come up through the ranks of city agencies, you start to become part of that culture and then it's hard to be objective and hard to audit those agencies and the many friends you've made throughout the city. It's not good to hire someone to audit their friends. You need to be independent. That's key."
But with two weeks to go until Election Day, Mr. Burnett faces very long odds; he has only $6,574 left in his campaign account, according to city campaign finance records, to make his case in a heavily Democratic city.
Mr. Stringer's campaign did not immediately return a request for comment.