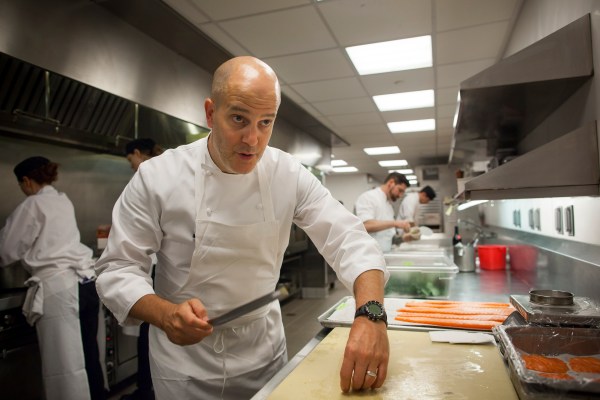 The first time I met Jonathan Benno, the chef at Lincoln Ristorante, he was in charge of Per Se, and I was kind of a dick. For one thing, I was drinking heavily in those days; for another, I am a swaggering extrovert, and, like many such people, I tend to disrespect less-obstreperous personalities. I was smitten with a friend of Benno's then-fiancée, and I used to kid both women about the chef's low-key manner. "How's Mr. Personality?" I would bleat over my sazerac, thinking I was a regular Don Rickles or somebody. It got back to Jonathan, I found later, and he was insulted and pissed off. 
I have had much reason to regret this circumstance subsequently and not just because I made a jerk out of myself. Mr. Benno is one of the best chefs in the country and is in my opinion criminally under-appreciated. His consummate professionalism is reflected in Lincoln's outrageously good food, and he is immensely respected within the chef fraternity. But to the public, he's just some guy. It's not hard to see why. Benno has no body art, no bad-boy twinkle to his eye, and is no more emotive at the pass than an oil painting. He is not given over to tirades or ready quips. His Twitter presence, if it can be called that, consists entirely of pictures of food. He looks more like an atom scientist than a chef.
His one venture into the truly cool food media, a Vice "Munchies" video, ended up as a disaster. The show consists of following rakish chefs and food personalities around as they go restaurant-hopping. Nearly the whole of Mr. Benno's consisted of the chef speaking uncomfortably to the camera about why he wishes it wasn't there. It was so profoundly awkward that it was, paradoxically, far more interesting and even moving, at least to me, than any other video in the series.
He is aware of this fact but shrugs it off. "Chefs are personalities today," he told me. "That's what sells, and that's what fills restaurants." Mr. Benno finds it hard to believe that hard work such as his won't pay off. The son of a carpenter and a mother who earned an M.A. in night classes while raising him and his sister, Mr. Benno is the Omega Man of the old-school work ethic.
When I asked him what drew him to kitchen work, his answer, given straight-faced like all of his answers, was "the opportunity to learn and work really hard." It was this Benedictine sense of duty that allowed him to flourish under a series of disciplinarian chefs, from John Farnsworth of Connecticut's Mayflower Inn ("a chef's chef") to Tom Colicchio and, eventually, Thomas Keller, the priestly Overmind of the country's most admired restaurant, the French Laundry.
***
Watch him at the pass at Lincoln, and you see what this tutelage has produced. Mr. Benno stands silently, his gaze as focused as an air-traffic controller's, and his commands appear to pass to his subordinates telepathically. The kitchen, following his lead, has a minimum of movement; there is no banging of pans, no reaching across stations, no cries of "Behind!"
During lunch, Mr. Benno had to raise his voice very slightly twice to prod a meat cook who was falling behind during the always-hectic Restaurant Week lunch service. By dinnertime, the guy no longer worked for Lincoln. "There are emotional moments, but they are very brief," Mr. Keller told me, speaking of the style in which he indoctrinated Mr. Benno. "There's never a time for chaos—just a sense of heightened urgency, like an operating room when someone's life is on the line." (Mr. Keller, like his protegé, is not known for a happy-go-lucky approach to kitchen management.)
The thing about obsessive perfectionism, though, is that it produces great results. "Jonathan has a real cook's mentality," his old Craft linemate Akhtar Nawab told me. Marco Canora, his old boss, said the same thing. "Jonathan represents the way [success] is supposed to happen. He worked the line, and he paid his dues, and he didn't become a chef until he was totally ready."
Mr. Benno's line-cook bona fides become apparent when you hear him talk about one of his dishes. Lincoln's menu changes from week to week; the-front of-house staff is briefed on the new menu items every night, both verbally and via a printed study sheet they are given. ("Lamb's quarter replaces agretti on the strozzapreti al ragu de mare," a recent one read. A botanical brief on the herb, which no one on Earth would notice when eating the dish, was featured at the bottom and included its physical markings and reproductive habits.) When asked about the dish, Mr. Benno launched into a 15-minute discourse on its origin ("Dan [Williams, Benno's sous chef] wanted to do a sausage with scallop and shrimp"), its evolution ("We decided to put some lobster coral in it"), its production ("the scallop sausage goes into the pan, and you break it up"), the gelatinizing agents in its stock and their origin ("I'll give Devin Knell at the French Laundry credit for substituting beef tendon for calves feet").
UNHAPPILY FOR Mr. Benno, his higher qualities not only tend to be ignored in the present culinary milieu; they actually have the effect of bringing him down. There are no bacon or bone marrow confections coming out of his kitchen anytime soon. His food at Lincoln is superb, but not spectacular; he's the kind of artist, like Rod Carew or Elliott Smith, who impresses aficionados but never really lights up the crowd.
***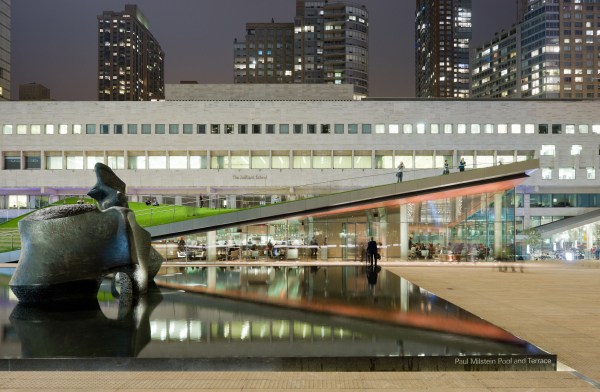 In fact, no amount of electronic glad-handing will make Lincoln sexy to twentysomething foodies. It's just not in the cards. His restaurant caters to operagoers, after all, with the consequence that he presides over an elderly clientele, mostly West Side grandees who eat there twice per week and always order the same thing. That fact tends to disguise the place's achievement. What looks like dull-as-paint skinless chicken breasts turn out to be a epically brined dark meat quarter, pressed flat and with a feathery crust bound, seemingly on a molecular level, via the Chinese technique known as velveting.
Lincoln was destroyed by critics upon opening for its ho-hum Italian food, which lacked the epic panache of Marea across the street or the tweezerly opulence of Mr. Benno's work at Per Se. Most of the food writers, including myself, had more or less written him into the thankless role of master technician at the time of Lincoln's opening. His food was technically impeccable, but almost none of us knew him personally, and he was considered something of a pill.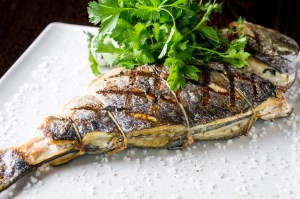 New York magazine's Adam Platt, in his one-star review of Lincoln, referred to him as "Thomas Keller's famously cerebral, Spock-like former lieutenant" and wrote of the restaurant itself that its "straightforward, all-Italian menu is short on dramatic, original flourishes, by the standards of a premier destination restaurant and insanely overpriced." Sam Sifton, Gael Greene and the other critics followed suit; without the Keller brand magic behind him, they let loose in a pack, anxious as ever to show that they were down with the kids, and not fuddy-duddies, and followed their original lukewarm reviews with an even more devastating radio silence. (Only Alan Richman, who wears his outsiderdom as a badge of honor, went in the other direction, hailing the place as the best new restaurant in America.)
Typically, the chef's response to it was to say that it was justified and double his effort to make it right. But it was still unjust, I think. Speaking for the food media, I believe we missed the real story. Consider, for a minute, what it meant for him as a cook to open an Italian restaurant. Whatever his Q rating, his reputation in the culinary world was stratospheric; only Keller and a handful of other chefs in the country can be said to have exceeded it. He had nothing to gain, and his greatest asset to lose, by turning to Italian food. Italian is the most popular food in New York; it is a field crammed with superstars—Mario Batali, Michael White, Marco Canora, Andrew Carmellini, the Torrisi boys. It is, moreover, the most chef-resistant of all the great cooking traditions, being by its nature naturalistic, imprecise and transparent. And then there was this: Jonathan Benno had never cooked Italian food, on any level, in his entire career. Far from being a sedate stuffed shirt, he was a man taking a wild existential ride into the void.
"I don't want to stop," he said. "I'm not done." He now fantasizes about some day in the future opening a Mediterranean restaurant or even going into the live fire-grill business—a possibility I go to bed every night dreaming of. The truth is that Mr. Benno has much more rock 'n' roll in him than anybody gives him credit for. He just doesn't have any tattoos to announce it.