My name is Joshua Smith. I live in New York and I make monochrome paintings. Recently a number of people have asked my opinion of a new show from a painter about a decade older than I am, Josh Smith, whose new exhibition at Luhring Augustine happens to incorporate a lot of monochrome paintings.
I first learned of Smith when I was a 20-year-old photo student visiting PS1 on a date about 10 years ago. I stumbled upon the work, something like six drawings with his name scrawled lyrically across the paper: JOSH SMITH, which is also my name. Of course it's a common name but it was still a treat. For super-specific reasons it made me feel part of the work, in the way I feel about Wolfgang Tillmans or Felix Gonzalez-Torres, artists whose own biographies are beautifully incorporated into the content and messaging of their work.
I thought then that it was bold of him to literally use his actual name as the primary formal element of his work. I thought then that the work felt defensive, as if he was preemptively defending his name and his integrity. The work betrayed some kind of anger, or at least some kind of posturing. That's how I read it immediately, and really still how I read those works. Not as a comment on theories of authorship or anything like that but as a willingness to present oneself as an average person. And to make a show of his averageness. Maybe these are my own class issues, but I think they're pretty universally shared class issues in this town. Or I hope they are. I mean, they aren't.
I've always loved those name paintings because here was an artist who didn't seem particularly talented in any technical sense (just like me), who studied printmaking, which I studied a version of (photography), and who, despite his background attending a school in Tennessee, far away from a global art center (I went to college in Detroit), got to New York and was showing his work in impressive situations. And we had the same name. This is what I, selfishly, took away from those works.
These works though, are only the cornerstone of the artist's larger project: repeatedly painting elementary formal motifs ad nauseam with ultra-expressive gestural brushwork and printmaking techniques on a pretty standardized suite of canvases, panels and boards. His emphasis on repetitive painting is not unlike Ann Craven's, but without her sugar-sweet imagery and her breezy dance with materials.
He did a couple shows downtown at Reena Spaulings and then moved to Luhring Augustine, amidst a flurry of international solo projects and other spotlight moments. His signature works were his signature works, and they were buttressed by his "mirror paintings," his palette paintings, his exhibition-announcement paintings, his abstract paintings and then his stop-sign paintings, his leaf paintings, his fish paintings, his paintings-shown-sculpturally-on-weird-hobbled-together-looking-stages, skeleton-paintings, awesome little ceramic doodads and a stunning amount of artist books. He was recently the star of an enormous and well publicized show at Peter Brant's house in Greenwich, Conn., on which he was advised by none other than Julian Schnabel. He painted a huge T-Rex for that show, which could be the best painting that's ever been made by anyone. And he did one huge, thinly painted name painting, which was also rad. Naomi Campbell was there. It was a big deal. I saw it all online.
This new show spans two galleries: the usual Chelsea space and another in Bushwick, which the gallery recently opened to some fanfare and confusion—the latest sign of an apparently booming interest in contemporary art at large.
The Bushwick space hosts a selection of paintings based on a tropical motif that I quite like, a crazy orange sunset-silhouetted palm tree atop a grassy turf. That island imagery is fun kitsch, but also earnest escapism. It all looks good online, palm trees are wonderful, and it's a great next step in this artist's project of producing a plethora of paintings using a given formal motif a thousand times over before moving on to some new motif to flood his viewers with. I like this aspect of Smith's work very much: its tendency to overwhelm. It's fun and it's ambitious and that's great.
(This show also includes a host of nice ceramic pieces. These little figurines are displayed in rows on shelves and resemble jugs, roosters, snowmen and masks. They remind me of Mark Grotjahn's masks. He's another great artist who got famous making large-scale, process-oriented monochrome paintings, wickedly defaced by his own bold signature, which he built deep into his canvases with serious aplomb.)
The Chelsea show consists exclusively of body-sized monochrome oil paintings on panel, slathered not too thickly or thinly in pretty wide brush marks. Clean, handsome wood is exposed on the sides, either very professionally taped off in the process of making the paintings, or maybe adhered to the panels after the fact. There's a light warp to some of the works, which is a bummer but doesn't cause any real problems. They're very brushy up close, like they were made with a wet broom and he was really putting his shoulder to work, covering the things in paint, quick and easy. Like most of his works, they look like they were fun to make, and I'm into that. They definitely don't look like color chips, which happens when some people make monochrome paintings. In my own paintings you can see a lot of weave in the canvas and mistakes in the canvas production— they almost look dyed rather than painted, and include my own little errors. In the work of, say, Julia Rommel, another young monochrome painter, you'll see a ton of dense, waxy material, and the trace of weird process things that I don't know about. They're beautiful. The master, Ellsworth Kelly, will let slip an occasional paintbrush bristle, a fun reward for close lookers. In Smith's paintings you can see all his wild-style brushwork. He's really kicking ass. Everyone does it differently.
The palette's pretty full spectrum, but does oscillate between pop and nature colors. I'm into that. There's a black but there's no white. A handful of super dark blues (some of my favorites), and one or two red-velvet-cake reds that are awfully handsome. Not vampire-blood red, but cupcake red. Those are neat. Unfortunately there are also some poopy browns, nuclear waste greens, Superman blues, and yellow-ass yellows, all of which I disliked. Of course, disliking them had the effect of making me think they're probably cool art, in an offensive-art-from-Vienna kind of way. I still don't like them, but I respect their occasional garishness, as one should. Pretty much every other painting has some off-color drip here or there, I guess the by-product of turning around many different pieces at once, and a laidback attitude in the studio.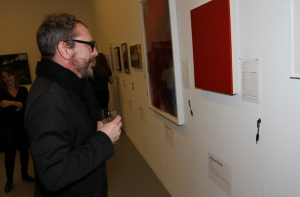 Now here's what happens when you start making monochrome paintings: everyone asks you why you started making monochrome paintings. And that's what's happening to Smith right now. The answers vary depending on whom you ask. Historically you could have asked Fontana, Gonzalez-Torres, Klein, LeWitt, Malevich, Manzoni, Martin, Palermo, Parrino, Rauschenberg, Reinhardt or Rodchenko. Now you could ask Auerbach, Bradley, Codax, Coffin, Cowan, Falls, Friedman, Gonzales, Grotjahn, Guyton, Hafif, Hirst, Hug, Jensen, Kassay, Kelly, Kline, Knoebel, Koether, Levine, Ligon, Lyall, Marden, Martin, Mosset, Moyer, Prekop, Price, Reyle, Richter, Rommel, Ryman, me, Smith, Stella, Stingel, Thompson, Tranchell, Trockel, Vena and Yi, and they'll all tell you different things, and they won't be lying. Asking an artist why he makes monochrome paintings is like asking an artist why he makes paintings.
But if I had to guess why Josh Smith started making monochrome paintings now I'd wager it's because he doesn't think that his viewers want him to make those works. He said somewhere recently that he couldn't afford to buy a monochrome from one of his favorite artists, so he made a whole show of them. That's funny enough, and maybe even true. But my hunch is that he's making his monochromes—and picking those colors, working with such ostensible swiftness, producing at such a remarkable quantity—because to him filling up a given space to capacity with his art, like he's stocking a Uniqlo, is interesting, and it's funny because it's pointedly un-precious and it pokes at the implied exclusivity of the art world. He is, in many ways, an extremely populist artist, in large part due to the extreme abundance of his output. He produces content the way we prefer to consume it now: gluttonously. It may be that he has a politic wherein zombie labor, unto itself, is virtuous, and frankly his efforts really do recall the workaday conditions of so many who do real labor but either way it's clearly a conceptual project, at least in part, using a wedge of aggressive irony and an apparent ethos of proliferation as an intellectual point of departure.
Smith's practice has always been to apply and to announce his printmaking roots all over his works, and to stamp them out with great speed and multiplicity, I guess mimicking the printer itself. One imagines stacks of paintings piling up on top of one another, like so many spreadsheets. But of course we're not really printing things anymore, and we all know by now that the real source for Smith's analogies is the Internet. The paintings in this way broach serious John Henry, man-vs.-machine issues. The gallery press release acknowledges Smith's "tireless production, and his tendency to acknowledge trends in painting and sculpture by expressly upending them." I buy that. He works hard, and he definitely seems aware of other painters, that's self-evident.
The artist certainly isn't alone in the way he dramatizes the printing process and parodies the way imagery and information are distributed today. One thinks of Wade Guyton, Seth Price or Kelley Walker's various simulations of the fractious manner in which we now work and communicate among networked devices. Each shares a flare for making art with a smart approach: they apply tried and true conceptual apparatuses to contemporary production technologies, and in the process literally stamp out fleets of artwork, intellectually pre-approved by generations of artists and writers since Warhol.
This all just feels a little too familiar, doesn't it? I'd argue that the stillborn ennui these works inspire is not the result of their being monochrome paintings, an ocean of a genre that so many dip their toes into, but because their conceptual positioning and messaging per the artist, his gallery and his advocates are by now a little boring.
And that message is that ours is a time when we can expect to labor mercilessly without emotional reward. When there is an abundance of information that we don't even hope to process, when experiences are selected and repeated to be experienced with continually diminishing returns, and when we've ceased to expect something like profundity in an art gallery, let alone, say, joy.
What we've come to expect of recent paintings is to see them used as props in essentially performative practices. Which is fine. As I said, we all make monochromes, and art, for our own reasons. But my sense is that viewers have been asked to expect much less of our paintings and our art, and to regard both with far less patience and care than we might have in the past. And in turn we viewers have received immersive bombast, cheap intellectualism and celebrities who do performance art. Even our intellectuals are satisfied with rote press releases that simply reheat Walter Benjamin and Arthur Danto. We don't expect a little painting to blow us away these days. And so they seldom do.
Joshua Smith is a painter based in Brooklyn. He has a solo project, "Three Paintings," opening this Friday at Southfirst in Brooklyn, and will be included in a survey of recent American art at Milan's Brand New Gallery in November. He is, along with several other young artists, a cofounder of Essex Flowers, an exhibition space on the Lower East Side, and was a founder, with Denise Kupferschmidt, of Apartment Show, an itinerant series of exhibitions that took place in New York from 2009 to 2010.