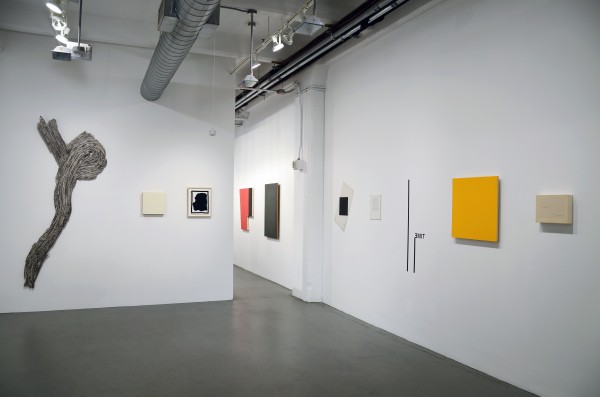 Art dealers have become easy scapegoats in today's irrationally exuberant art world, but it's worth remembering that most have fairly precarious existences and that they're absolutely essential: They take chances on artists, create opportunities for them and, ideally, sell work so that they can continue making. This charming show, organized by Minus Space in collaboration with the artist John Zinsser, provides a welcome case study, homing in on the career of New York dealer-entrepreneur Julian Pretto through work by more than 40 artists he supported.
Pretto died of AIDS in 1995, at age 50. The headline of his Times obituary was straightforward: "Owned Art Galleries." He operated quite a few of them. They were located throughout Downtown Manhattan—he often had a few at a time in disused spaces—from the early 1970s to the early '90s, with a brief break in the '80s when he decamped for Costa Rica. He's probably best known for spearheading the development of the Fine Arts Building on Hudson Street in newly christened Tribeca, which for a period housed Artists Space and the newborn New Museum. Jeffrey Deitch organized his first show in Pretto's gallery in the building in 1975. In 1977, critic David Bourdon called Pretto "a cool, somewhat elusive personality," "without any visible means of support," but he liked him. He was the sort of guy who made things happen.
How was he as a dealer? Judging by what Mr. Zinsser and company have dug up and received from artists—most of these artworks once hung on Mr. Pretto's walls or passed through his hands—he was an interesting one, with a clear and rigorous sensibility. There are works by classic Minimal and Conceptual artists—a 1962 poem typed out by Carl Andre, a brushy black 1991 Sol LeWitt gouache, a little silver cube from 1967 by Robert Barry hung from the ceiling in the exact center of Minus's main gallery. (In a move that Pretto would have applauded, they've temporarily commandeered a second gallery down the hall.) There is also a lot of strong monochromatic painting, by artists like Marcia Hafif (a small, bright, handsome, yellow enamel square), Olivier Mosset (a small off-white square, typically flat and deadpan), Kathy Drasher (a warm, peachy decagon with a poetic bit of text) and Daniel Levine (another square, this one an ethereal, almost glowing, white).
There's also a solid helping of funkier, more-organic-looking abstraction here—a veiny network of yellow and black lines by Daniel Reynolds, a brushy green canvas by Gregory Montreuil, a spooky painting in pesto green and light purple by Gail Fitzgerald that looks like some ghostly undersea creature (and suggests a miniature, low-key Sigmar Polke) and, probably my favorite work here, a square with a few barely there marks, whiffs of different colors by Roberta Allen. (Also of note is a strong red-and-blue hard-edge drawing by the late, great and still underrated Stephen Antonakos.)
Pretto's here too, in the gallery's office, in the form of a spectral, mysterious portrait against a light blue background by Ellen Lanyon from the late 1980s that almost looks unfinished, which feels appropriate. He put a lot of art into circulation and helped dozens of artists. Some scored big; others are all but forgotten. Many of the names in the show are likely to be unfamiliar. Let's hope plenty of artists—and dealers—stop by and pick up on some of the rich material that he championed. (Through Oct. 26)