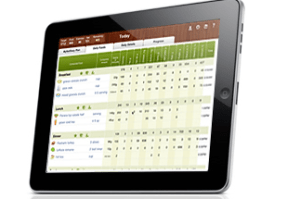 Are you gripping tightly to your exercise ball? Good, because you might roll off after hearing this: A new study concludes that those diet apps don't work. It turns out they don't provide the motivational support or any helpful health tips that is necessary when losing weight.
Researchers from the University of Massachusetts investigated the top 30 apps and found that they only contain a "narrow range" of behavioral strategies. "Strategies that often were missing are ones that help patients with adherence and motivation," they said per Science Daily.
The strategies the researchers are looking for, like willpower control, stress reduction, and relapse prevention are an essential part of a useful diet. There are 20 of them, but only 28 of the top 30 apps contain less than 25 percent of those tools. "Even the top two apps include only 65 percent of the 20 strategies," writes the journal.
And if you want to feel extra sad about your flubby self, paying for diet apps aren't worth it either. "Free apps were just as likely as paid apps to include evidence-based strategies. That's the good news for the consumer," said Dr. Sherry Pagoto.
But the apps do have a few useful tools, like integrated barcodes to get nutrition info, links to social networks for emotional support and text or email reminders for exercise. Dr. Pagoto hopes in the future that the apps actually work:
"Where we're hoping the next generation of apps can do better is in incorporating some of those strategies that help the user who might not be so good about entering their diet every day and staying on track with their goals," she said.
Looks like it's back to ice cubes and kale chips for us.