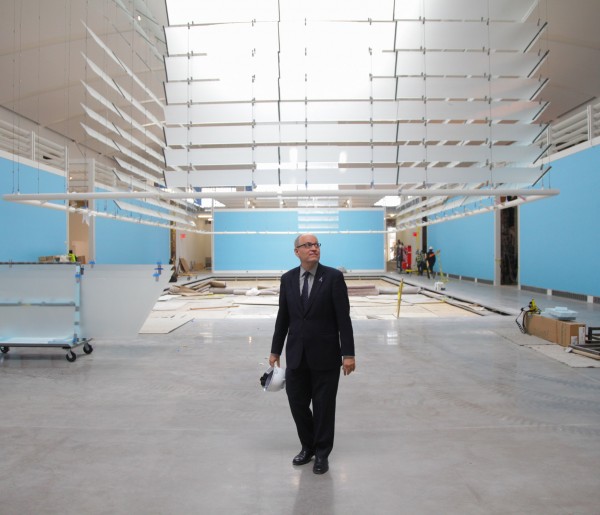 Tom Finkelpearl hates the word "outreach." The executive director of the Queens Museum was sitting in his office, a small, nearly windowless room sparely decorated with a few photographs and some fairly uncomfortable furniture, fielding questions from staff that tend to walk in unannounced through the open door. He was outfitted in his usual uniform of nondescript black pants, blue button-down, Skechers sneakers masquerading as dress shoes and rectangular glasses. A hardhat, a bottle of hand sanitizer and an antiquated printer were among the items atop his desk. "I think there's a difference between outreach and community engagement," he said. "Outreach is 'they're out there and we're in here.'"
That's why, when Mayor Michael Bloomberg cuts the ribbon on the brand new, $69 million expansion of the Queens Museum this week, the ceremony will mark more than a facelift for an institution long overshadowed by the rusty relics of World's Fairs. The glass-dominated addition, with its airy sky-lit atrium and sleek new suite of galleries, is stunning, yes, but the cathedral-like space is only an outward sign of inward grace, an indication of the radical work that has been quietly happening there for years.
In 2006, Mr. Finkelpearl hired a community organizer, an unusual move for a museum director. Naila Rosario, who had spearheaded local political campaigns, was charged with identifying the interests and needs of people living in Corona. She attended local PTA meetings and even went door to door, "which is something arts outreach people just plain don't do," he said. She found high rates of diabetes in the neighborhood, and so the museum worked with its neighbors and a nutritionist to create a bilingual cookbook with healthy riffs on local dishes. All 7,500 copies were distributed for free, many at street festivals involving performance art.
"Tom's idea that some of the skills that might be needed to make museums make more sense in the world might not come from our field but come from somewhere else in the form of community organizers was brilliant to me," said Thelma Golden, director of the Studio Museum in Harlem. "For me, that was a real paradigm shift in all my thinking about engagement, outreach, any of those categories of important work that all museums should be doing."
For a visionary, Mr. Finkelpearl is an unassuming character. He lacks the braggadocio of directors in the mold of Thomas Hoving, an aristocratic showman who wowed crowds by bringing King Tut to the Met, and is quick to give others credit. But over the course of Mr. Finkelpearl's tenure, attendance at the Queens Museum has spiked, the annual budget has increased, and the institution is more financially secure than ever, thanks to his doubling the number of board members and knack for drawing big donations. More than anything, though, Mr. Finkelpearl's success lies in his vision for what an art museum can and should be. His peers hail him as a trailblazer who, in the words of Ms. Golden, "is shaping the future of museums."
Recently, he has also been shaping a building. "I don't know any other museum, except for museums that have just been built from scratch, that's undergone this kind of transformation," he said. The addition, which reopens to the public on Nov. 9, adds 50,000 square feet to the museum, doubling its footprint. "I think I've kind of repressed the enormity of the change that's about to happen."