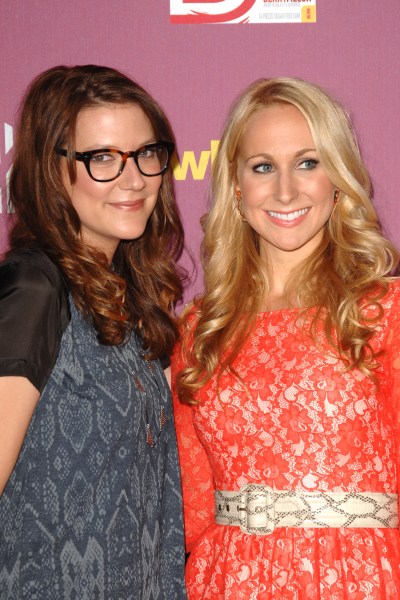 On an overcast morning in September, comedians Nikki Glaser and Sara Schaefer were at the epicenter of a flurry of preshow activity at MTV Studios in Times Square. They were several hours away from shooting their weekly late-night talk show, Nikki & Sara Live, and myriad details needed sorting before they would be able to get in front of the cameras. Hair and makeup artists busied themselves about the two women, while their show runner, Kim Gamble, read aloud from the latest shooting script draft. Ms. Schaefer hastily tapped away on her smartphone to confirm that her friend Wyatt Cenac, the comedian and former Daily Show correspondent, would be off his plane in time to film a quick segment for the episode. Staff members popped in and out, often with a laptop, displaying graphics for approval or confirming other logistics.
All the while, Mmes. Glaser and Schaefer appeared very much at ease with their new responsibilities as freshly minted television personalities. Backstage, there wasn't a hint of the neurotic, ego-fueled tension that often colors depictions of life in the world of late night. Instead, as they prepared for that evening's episode, the co-hosts joked with their staff and traded scraps of celebrity gossip. So casually self-assured were the two women that one might have never guessed they were only months into the dream jobs they had spent nearly a decade determinedly chasing down.
"I'm more comfortable than I've ever been doing anything on TV," said Ms. Glaser, 29, noting that any early-episode jitters had long since evaporated. A prolific stand-up who has performed on The Tonight Show with Jay Leno and Conan, Ms. Glaser insists that she's now undaunted by the challenges of helming MTV's first late-night talk show in almost two decades. "There's nothing really to fear anymore," she added. "My job is just to be in a good mood and project that and to be funny and to just be myself."
Ms. Schaefer, 35, a stand-up and former staffer at Late Night with Jimmy Fallon, echoed that sentiment. "It's way easier to do now," she said, with a mixture of excitement and relief. "It's just more fun, because the nerves are gone in that large way."
Those nerves and jitters have been dispelled in large part thanks to a steady stream of fans, enticed by the women's fresh, quirky addition to the late-night landscape. With Nikki & Sara Live, which premiered in January and is now finishing up its second season (the finale airs this week), Ms. Glaser and Ms. Schaefer are carving out a hard-earned niche for themselves among MTV milleninals and comedy nerds of all stripes. In its first season, the show—an unabashed celebration of pop culture and entertainment infused with sly, silly humor—beat out all other original programming in its 11 p.m. time slot among women in MTV's coveted 12 to 34 demographic.
"Some of these shows are too cool for school or you can feel the hosts working too hard," said the popular comedian Amy Schumer, who has known the women for years through the stand-up community and counts herself as a fan. "But on their show, it is friends having a good time talking about the stuff we all feel a little guilty caring about."
Of course, the appearance of not working too hard belies reality. Behind the scenes, Mmes. Glaser and Schaefer have earned reputations as focused and diligent workhorses. When The Observer arrived on set, the women were, true to form, walking through each and every line of the evening's script—punching up jokes, honing sketches, refining dialogue. "They're involved at every stage, from coming up with the initial ideas to writing and rewriting passes of the script to giving notes on set to giving notes on the edit," said Ms. Gamble, a former producer on The Colbert Report. "Every step of the way, they're very active hosts. They don't just show up and read the teleprompter."
This vigilant attention to detail is derived in part from the many years both women spent fending for themselves as stand-ups, and a rare touch of weariness crept into their voices when they discussed having to adapt to the infinitely more collaborative nature of television. The impossibility of having full creative control over a project as high stakes to them as Nikki & Sara Live can still feel, at times, disturbingly alien. "When your name is on the show," confessed Ms. Schaefer, "the smallest thing can be just unbearable."
Sometimes, added Ms. Glaser, "every little joke to me seems like our third season hinges on it."
***
ONLY A FEW short years ago, before Mmes. Glaser and Schaefer even knew one another, the prospect of having an influential role on a late-night talk show—let alone hosting one for multiple seasons—seemed for both women like an increasingly unattainable dream.  Each had cultivated a well-regarded reputation within the bruising, ultra-competitive New York comedy scene, but professionally they had hit a wall.
"Both of us were kind of lost in our own way," recalled Ms. Schaefer.
Ms. Glaser, who grew up in St. Louis idolizing Conan O'Brien, began performing stand-up while a student at the University of Kansas. Some moments from early in her career were documented in the NBC reality show Last Comic Standing, as well as in the film I Am Comic, before she eventually rose to become a headliner at comedy clubs around the country. But after relocating to New York in 2010, she found herself burned out by the financial strains of life on the road and the emotional tolls of her singular devotion to stand-up.
"It's really a painful process," said Ms. Glaser. "Going on stage, I kind of was starting to resent crowds, because I'd put something out there, and they wouldn't really respond to it. And I'd be like, you know, well, fuck you."
At the same time, Ms. Schaefer was charting a course that was "pretty much the opposite of the traditional path" comics travel en route to having their own television series. For years, the Virginia native pounded the NYC pavement, while throwing herself into everything from stand-up to stage shows to Web videos, struggling to find a foothold within the city's ever-shifting comedy ecosystem. In 2009, she became the head blogger at Late Night with Jimmy Fallon—for which she eventually won two Emmys—but her attempts to join a writing staff or land an opportunity in front of the cameras were continually thwarted.
"I didn't know what I was going to do," said Ms. Schaefer. "I was getting rejected a lot."
Fortuitously, Mmes. Glaser and Schaefer met at a party in 2010 and, after hitting it off, entered into a boozy agreement to start a podcast together. Several days later, they made good on their word. Borrowing some equipment from Late Night with Jimmy Fallon and transforming Ms. Schaefer's Brooklyn living room into a defacto recording studio—even using her Emmy as a makeshift mic stand—they recorded their first episode of You Had to Be There.
In the increasingly crowded field of comedy podcasts, You Had to Be There distinguished itself by showcasing the blossoming friendship between Mmes. Glaser and Schaefer as they discussed—in hilarious and poignant detail—their personal lives, careers and pop culture infatuations.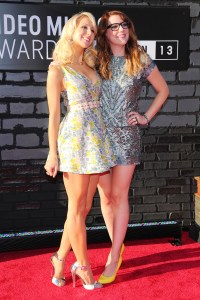 "We didn't even know each other," remembered Ms. Schaefer. "We got to know each other on the podcast, and the chemistry was just instant, and everyone responded to it so strongly." When they pitched the concept of Nikki & Sara Live to MTV, the women circulated episodes of the podcast among network executives to assuage any lingering doubts about their abilities to shoulder a series of their own.
The network brass was impressed. "There's something about their dynamic that doesn't feel like I've seen it before," said Susanne Daniels, president of programming for MTV. "Their humor's smart, and their humor has some kind of commentary to it," she added, but "not biting in a negative way. Just sharp." Eighteen months after their serendipitous partnership formed in Ms. Schaefer's living room, the duo received the green light to begin their new venture at MTV's iconic studio in Times Square.
***
TO THE CASUAL eye, the comedians' transformation from DIY podcasters into late-night comedy ambassadors might appear uncommonly swift. But Mmes. Glaser and Schaefer are quick to refute narratives that might cast them as any sort of overnight success. Although they now rank among a growing number of comics currently breaking into television on the heels of a popular podcast—a list that includes alt-comedy heavyweights Marc Maron and Scott Aukerman, as well as late-night newcomers Pete Holmes and Chris Hardwick—the women maintain that on its own the emerging medium provides few shortcuts to the top. "What we had was built on us both working very hard for a decade," said Ms. Schaefer. "At the end of the day, what makes you make it is the dedication and the time."
So what then does the future hold for Mmes. Glaser and Schaefer? Both women continue to pursue careers in stand-up: In May, Ms. Glaser's half-hour special premiered on Comedy Central; this past summer, Ms. Schaefer made her television stand-up debut on John Oliver's New York Stand-Up Show. Ms. Schaefer is also in talks to develop another show for television. And down the line, the two are eyeing the possibility of collaborating on a book.
But more than anything, the co-hosts insist they are committed to enjoying their current good fortune, whatever glittering opportunities may seem to be on the horizon. The women are still awaiting word from MTV about a third season, the possibility of which they do not take for granted. After all, the only guarantee in the world of entertainment these days is that there are no guarantees.
"Back in the days of Carson, there was a pretty set path," Ms. Schaefer explained. "But now, there's no set checklist. You can carve your own path. The only thing you have to do is put everything you have into it, for a very long time."