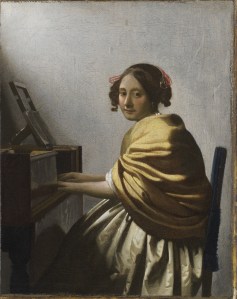 It is shaping up to be a big winter for Vermeer here on the East Coast. The Frick is showing the artist's Girl with a Pearl Earring (ca. 1665), which is on loan from Amsterdam's Mauritshuis, and has hung its three Vermeers together in one gallery. Now the Philadelphia Museum of Art is joining the party, announcing that it will show the master's A Young Woman Seated at a Virginal (1670–72), which resides in a private collection, through March 2014.
A Young Woman Seated at a Virginal is the last painting by the Sphinx of Delft in a private collection. (Although the circa 1663–1666 The Concert, which was stolen from Boston's Isabella Stewart Gardner Museum in 1990, is also presumably in private hands at the moment.) Including The Concert, there are only 36 known paintings by the artist.
The work is also the most recent Vermeer to be authenticated. When it was purchased in 1960 by the art collector Baron Frédéric Rolin, many scholars believed it was a forgery, though subsequent tests won over many experts. In 2004 it sold for $30.1 million at Sotheby's London to a private collector. The loaner for the Philadelphia display is the New York-based Leiden Collection.
Below, the Jonathan Richman classic "No One Was Like Vermeer" with a sporty slide show of works by the man himself.