It's not a coincidence that Laurie Tisch, the heiress whose last name is synonymous with New York City philanthropy, named her five-year-old foundation the Illumination Fund. The first thing you see when you walk into her office on the 20th floor of a Midtown tower is beautiful, bright light. Floor to ceiling windows bathe the white walls in sunlight, which illuminates the work from educational programs she's helped fund. And then there's the chandelier. It's covered with hundreds of sayings from people Ms. Tisch knows and admires, such as Bill Clinton, to people she just admires, such as Lady Gaga ("I'm just trying to change the world, one sequin at a time.")
Ms. Tisch started the Illumination Fund as a way to keep doing what she had been doing her whole life, raising money for causes she's passionate about. But instead of doing it as one gear in a large machine, her stripped-down operation allows her to be precise in targeting exactly how her resources are deployed.
For example, one of her passions is arts education.
"For years, I served on the boards of the Center for Arts Education and the Children's Museum," Ms. Tisch said.  "They are now grantees and we give them a fair amount of money, but I'm not involved in the daily running at all anymore. My real passion is what we're doing here and the strategies that we have developed."
With a budget of about $10 million, Illumination has to pick its opportunities carefully to have any impact. Having served on dozens of boards, Ms. Tisch is aware of how much bureaucracy can get in the way of achieving an organization's goals.
"We are a relatively small foundation and a very small staff; as a matter of fact you're sitting with the whole staff," she said. "But we're kind of becoming like the little foundation that could. We have a lot of reach, partially because about 80 percent of our budget stays here in New York City."
It's that kind of focus that ensures maximum impact for each dollar the foundation applies.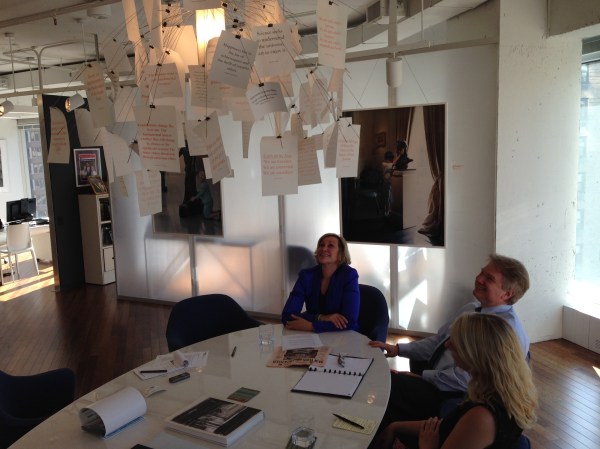 Ms. Tisch is not shy about turning her years of service and generosity on much bigger boards to the advantage of her grantees. On the walls at the Illumination office hang works from the talented young artists of the Whitney Youth Insights Program. According to Ms. Tisch, it's an opportunity not just to show the artwork but develop supporters.
"We do an opening every time there's a new exhibit and invite the artists and have speakers about four times a year and meetings with 20 people who are also foundations and grantees," she said. It's about growing a culture and lasting links between donors and recipients.
A conceit of the philanthropist interview is to discuss how normal and down-to-Earth the subject is. In the case of Ms. Tisch, you can't help it. As a co-owner of the New York Giants, for example, she apologizes for the team's poor play when I mention that I sat next to her brother Steve at the previous day's shellacking by the Denver Broncos. But she actually knows something about football, too.
Later, when we talk about Illumination Fund's innovative strategy to bring healthy food carts to neighborhoods that don't have fresh-food options, the conversation turns to, as it always does whenever I can help it, my recent loss of about 90 pounds. Ms. Tisch relates how her son-in-law, who met her daughter when they were both at Yale, where he played football, "still eats like he plays football and he's just lost almost 40 pounds. It's so funny because he said, 'Well I was 250 and now I'm down to 210,' and every time he says that, I say, 'Oh my God, you would have to string me up, I mean do worse things to me than they do in Breaking Bad for me to ever tell anyone how much I weigh.' " See? She's normal, and not just for someone whose name is on college buildings and hospitals and museums all over the city.
If Ms. Tisch is down to Earth for a member of the city's philanthropy royalty, she comes by it naturally.
"When my father and his brother were rising in the business world and giving money away, it was in the olden days before spaghetti was called pasta and drinking was called hydrating," she said. "It was before community involvement was called philanthropy, at least among the Jews. My father and uncle grew up middle class and moved every 12 months because when you lived in Brooklyn, if you took a year lease you got a month free, so they moved a lot. So they weren't 'philanthropists,' and there wasn't any type of mission statement or metrics, it was something that was just done."
Ms. Tisch turns wistful as she remembers the Bensonhurst where her father, Bob, and her uncle Larry, grew up and built Loews from a single New Jersey resort into a conglomerate spanning hotels, tobacco, insurance, off-shore drilling companies  and, of course, the Giants.
"At my father's memorial service, there were so many illustrations of not just community involvement but kindness, from something big like the N.Y.U. Medical Center or the Jewish School of the Arts to when a firehouse lost their dalmatian and he sent a new one," Ms. Tisch said.  "It wasn't called 'philanthropy,' it was called 'being kind.' " Laurie Tisch learned from her family that the best way to do good is to do well. She's proving with the Illumination Fund, and its focus on the children of New York City, that she's as committed to teaching those lessons as she was to learning them.