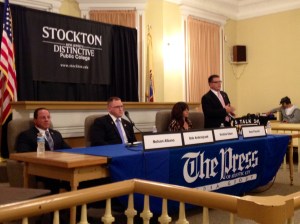 CAPE MAY COURT HOUSE – The theme that was missing from the opposition during the Senate debate was certainly present during the Assembly event.
In Legislative District 1, two Republican candidates challenging the two Democratic incumbents aimed to make one thing clear to voters: Send more Republicans to Trenton.
GOP Assembly hopefuls Kristine Gabor and Sam Fiocchi, both freeholders in their respective counties, highlighted the theme that's been present in legislative races around the state where Republicans hope to knock out Democratic incumbents, but was largely missing from the night's Senate debate.
"We need to keep putting Republicans in [office]," Gabor said in response to one question from panelists.
"He started to do that," responded Fiocchi to another question, referring to Gov. Chris Christie's work with fighting rising property taxes and arguing "more work needs to be done" and that Republicans will go to Trenton to help him.
The message between the two candidates was clear in that New Jersey's incumbent governor – who's leading by a wide margin in the polls against his Democratic opponent – will need Republicans in the Legislature to help him if he's elected to a second term.
But, of course, this is LD 1. As is such, the district's incumbent lawmakers, Assemblymen Nelson Albano and Bob Andrzejczak, were quick to remind voters that they are not far-left Democrats.
"In Chris Christie's first budget," said Albano, "I was one of a handful of Democrats that supported his budget."
Albano, like his Senate counterpart Sen. Jeff Van Drew (D-1), was quick to remind voters in South Jersey that he's known to buck his party establishment and break from Democrat votes in the Legislature.
His running mate, although he's new to the Statehouse and has spent a relatively short time in the Legislature, agreed.
"We do need to learn to spend within our means and that's why we voted for the governor's budget this year," Andrzejczak said.
But the GOP challengers brought it back during their closing remarks.
"Are we in a better place now than we were 10 years ago?" Gabor asked. "Do we still want to be there [in 10 years?] If we do, then go with the status quo."
Earlier in the evening, Van Drew shared the debate table with his Republican challenger Susan Adelizzi-Schmidt.
Susan Adelizzi-Schmidt told voters she was running for office to create jobs in the region.
A Stockton Polling Institute poll released late last month found that while the district's incumbent senator holds a sizable lead over his opponent, the LD 1 race for two Assembly seats is much tighter.
The poll found Albano has the most support with 24 percent, Republican challengers Fiocchi and Gabor (both 17 percent) are only four percentage points behind Democratic incumbent Andrzejczak, at 21 percent.
Albano is the better known of the four Assembly candidates. Only 26 percent were not familiar with the incumbent; whereas over 50 percent were not familiar with each of the other three candidates.