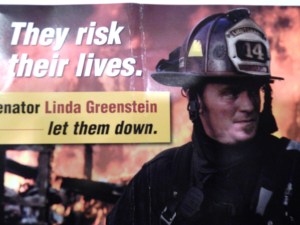 HAMILTON – The door-to-door combat in Central Jersey's battleground LD 14 has gotten so complex that each side is going into the base of the other to confuse, distort and bludgeon.
A mail campaign coordinated by the Republican State Leadership Committee out of Washington, D.C. continues to lay heavy artillery on Democratic Party-registered households.
The message attempts to jackhammer the base of state Sen. Linda Greenstein (D-14), a pro-unions public sector worker advocate.
The ads repeatedly reference Greenstein's aye vote for Jon Corzine's budget, arguing that her actions put public pensions at risk. The glossy mailers feature grim and besieged firefighters put in those postures, or so the ads argue, by Greenstein.
Stunned by the audacity of the ads to distract from the Gov. Chris Christie-backed public pension and benefits overhaul that Greenstein fought, two Democratic Party sources who regularly vote in legislative elections say they repeatedly received the mailers.
Not to be caught with a confused base, Greenstein forces, supplemented by teachers unon and labor Super PACs, have retaliated with ad drives onto the supposed base of former Republican state Sen. Pete Inverso.
Yesterday, during the Rush Limbaugh radio show, LD 14 listeners heard anti-Inverso Greenstein ads.
Much of the messaging targets Inverso's role as the former CEO of Roma Bank, noting 57 worker layoffs during his time there, and questioning what the candidate sells as his prime asset: money management.
Greenstein has deployed union allies to turn the fire hoses on the GOP ad onslaught while Inverso has enlisted a brace of GOP allies to turn hard stares on anyone who questions the former senator's integrity.
Inverso has more than rank and file Republicans committed to his cause.
This week, Christie appeared in a cable television ad chopping at Greenstein and promoting the veteran Hamilton politician.
"Despite what Linda Greenstein says, she is a partisan politican who has opposed my efforts at every turn," Christie says in the ad.
Christie polls high in the district and Inverso's allies are hopeful of the 11th hour sales pitch made directly by the governor.
Dominick Marino, president of the Professional Firefighters Association and a staunch Greenstein backer, is rushing to counter the GOP, noting that Christie enacted legislation that increased pension contributions from 8.5% to 10%, increased health contributions to 33% and reduced the pension contributions of the employer while raising employee pension contributions.
"Linda Greenstein was also the prime sponsor of the first responders bill, which would have enhanced and helped all first responders throughout the state of New Jersey in workers compensation and Gov. Christie vetoed it," Marino said. "She is for firefighters and first responders."
Faced with union entrenchment, some of the former Republican senator's forces continue to groan with the notion that they have not received sufficient contributions to check Greenstein's union infrastructure.
Democrats are confident in LD 14 when they consider their labor-organized Election Day GOTV effort, and Greenstein's reputation as the ultimate retail politician.
Republicans counter with the fact that they have a woman they believe is a strong incumbent, Mayor Kelly Yaede, running in the biggest single town in LD14, Hamilton, to complement locally the boost the GOP hopes to get up top from Chrsitie.
The governor raised around $75,000 for the Inverso campaign at a breakfast and contributed an additional $15,000 for advertising down the stretch, sources say; roughly the equivalent of what he did in two other legislative districts: LD 18 and LD 38.