King Midas seemed pretty upset about turning his food to gold, but Serendipity 3 owner Stephen Bruce has no idea why. The emperor of ice cream swears the edible gold flakes on the restaurant's $25,000 frozen "haute chocolate" dessert are delicious.
"It actually tastes beautiful; you don't know you're eating it; it just melts away on your palette," Mr. Bruce insists.  While Manhattan's pastry chefs are well-practiced at incorporating extravagance into every bite of dessert, none can touch this level of decadence.
And it's practically guilt-free: the sundae is a sweet charity conceit that sends $15,000 to the non-profit of your choice, while the diner gets to keep the spoon, an 18-karat gold leaf utensil studded with three carats of black and white diamonds. All the better to dip into a gold-lined goblet, at the base of which rests an 18-karat gold bracelet with a carat of white diamonds. The ice cream, if it matters, is made from a blend of 28 cocoas, which are infused with, yes, more gold. Topping it all is a La Madeline au Truffle from Knipschildt Chocolatier, which costs $2,600 a pound or roughly $200 per royal bite. A bit too rich?
For those on two-figure dessert budgets, many other delights await.
Revamped Candy Corn
Juni, 12 East 31st Street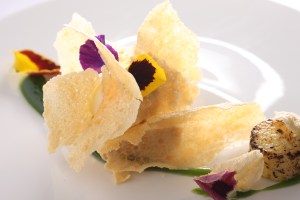 We're serious. If you're dying for candy corn, make your way over to Juni, where owner Shaun Hergatt puts a highbrow spin on the tri-colored Halloween candy. The restaurant's pastry chef, Mina Pizarro, delicately arranges tarragon, lime and cheddar crisps on a plate drizzled with tarragon-lime sauce, for this decidedly upscale dessert. She explains, "I tend to lean towards playing with salt and sugar together, like the yin and the yang." Accordingly, the savory ingredients are served with sweetcorn ice cream and a caramel custard, and the result is an Ikebana-like work of art that is almost (though not quite) too beautiful to eat—and costs $15. No children allowed.
White Chocolate Cloud
Bouley, 163 Duane Street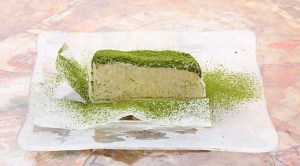 The perfect dénouement to star chef David Bouley's six-course, $175 prix-fixe menu lives up to its name. Aerated white chocolate mousse is suspended over a layer of frozen white chocolate ice cream and dusted with green-tea powder. The effect is heavenly, like eating a cloud—affirming the maxim that good things come to those who wait.
Arctic Bird's Nest
Aquavit, 65 East 55th Street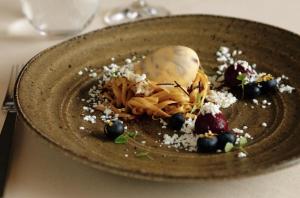 Got friends who think dessert is for the birds? They won't after sampling this—though they'll have to order the Chef's Tasting Menu to try it. Nestled on a bed of crispy honey tuile and served with sorbet and fresh blueberries, the "egg" is a goat-cheese parfait with an inner "yolk" made of sea buckthorn: golden berries from a Scandinavian shrub. Pastry chef Emma Bengtsson, a native of Stockholm, claims that the dish is intended to show that "life continues through any climate." The $20 plate, with delicate, dark chocolate twigs and a sprinkling of snow—or shaved frozen yogurt—makes life seems pretty delicious indeed.
Signature Mille Crêpes
Lady M Confections, 41 East 78th Street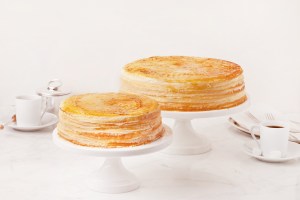 This is the kind of dessert that sparks revolutions. The minimalist white interior of the Upper East Side dessert salon matches the subtle richness of its famed Mille Crêpes. No less than 20 paper-thin crêpes are layered with sweet cream and caramelized to achieve a mouth-watering finish. The transformation of a Parisian street food into a dessert fit for Marie Antoinette is enough to melt any Francophile's heart.  A slice costs $7.50.
Popcorn Cake
Momofuku Ssäm Bar, 207 2nd Avenue
Since 2006, David Chang's Ssäm Bar has been making dessert pop. Now they're doing it literally with what may be the city's "corniest" delicacy. Served with pickled tri-star strawberry jam and topped with caramel corn, this brand new, six-inch cake—which replaced the pancake cake on the menu—is layered with popcorn, salted caramel, popcorn crumbs, popcorn pudding and corn fudge. Created by Momofuku Milk Bar chef Christina Tosi, the entire cake is $43. Jena Derman, Momofuku's head of menu development, claims, "The initial iteration of this cake was based a movie-theatre inspiration—popcorn and Coca-Cola"—but you can wash it down with a glass of champagne if you choose (the Coca-Cola of adults).
DKA Ice Cream Sandwich
Dominique Ansel Bakery, 189 Spring Street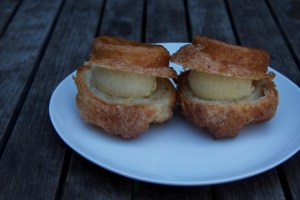 The Cronut is over! Instead, ask for this off-menu twist on the DKA , or "Dominique's Kouign Amann" (pronounced "queen-ah-mon"). Somewhere between a popover and a caramelized croissant, the DKA is not as famous as the cronut, though it has sold out every day since the bakery opened. "Making a good kouign amann is like making a good omelet," Mr. Ansel said. "It only contains a few ingredients—sugar, flour, butter, yeast, salt and water—and is simple to make. But it is difficult to make well." Now that Mr. Ansel has mastered the pastry, what could be better than stuffing it with ice cream? You can choose your preferred flavor, though we're told the smoked cinnamon is to die for. The sandwiches are $6 each.