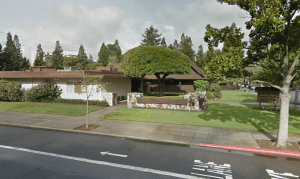 Guess she's out of ideas for how to dispose of all the skeletons in Yahoo's closet,because Marissa Mayer has decided to buy herself an old funeral home. The Mountain View Voice reports that the CEO has snapped up a 114-year-old, family-owned mortuary that closes its doors Thursday.
Since the one acre plot of is just east of her Palo Alto home, the plans of what Mayer's plans are leaving the neighbors chatty. "What the heck is she going to do with that place?" said local citizen Alan Loveless to NBC Bay Area. "It's not something I'd want to have in my inventory." Another added that Ms. Mayer's huge parties are a nuisance and called her an "intrusive" neighbor. "She could buy a compound, do whatever she wants and not disturb her neighbors," they added.
It's believed that she will knock down the funeral home because A) it's likely haunted and B) her famous home that received the Vogue treatment is reportedly used primarily for entertaining. City zoning laws state that it can fit up to 21 units, but Ms. Mayer probably doesn't want to deal with being a landlord on top of her day-to-day duties. Regardless, it's believed that she will tear it down and build *something* there.
Requests for comment from the newspaper and the television station have not been returned by Camp Mayer.
Until she does, it's fun to think that it's a much needed Dunkin' Donuts franchise.