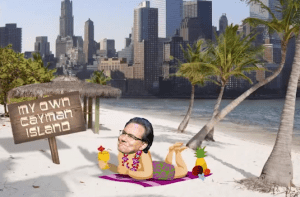 Comedian Lewis Black is back with another love letter to New York State–and New York Gov. Andrew Cuomo.
In a new video, which debuted this morning at a press conference formally launching the state's new START-UP NY tax-free zones, Mr. Black celebrates the governor's efforts to make the state more business-friendly in his usual, sarcastic form.
"You think we like paying taxes? We don't like paying for anything! We expect street vendors to sell us a silk scarf, a phone chargers and 20 pairs of socks for five bucks. And they doooo!" he says at one point. "That's why we sent this guy to Albany. We said, 'Yo, Andrew, lower our taxes across the board or don't bother coming home!'"
Later, he praises the state's recent embrace of alcohol production.
"They're starting wineries, breweries, distilleries, cideries. If you can grow it, someone in this state will turn it into booze! " he exclaims.
Mr. Black famously took to the Daily Show this summer to fire back at Rick Perry, after the Texas governor began airing ads trying to lure New York businesses to his state.
Watch the new video below:
[youtube=http://www.youtube.com/watch?v=ysn4U-2Be0c&w=560&h=315]
And here's a longer version also available on YouTube:
[youtube=http://www.youtube.com/watch?v=q1wIhgTcuyc&w=420&h=315]