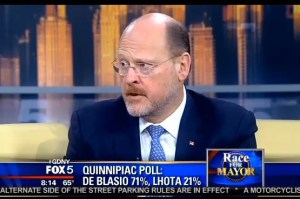 Republican mayoral hopeful Joe Lhota dismissed a new poll out this morning that shows him being creamed by his Democratic challenger and brushed off criticism that he doesn't have the fire in his belly to win.
The latest Quinnipiac poll shows Mr. Lhota trailing Bill de Blasio by 50 points, 71 to 21 percent. But Mr. Lhota wasn't letting the bad news get him down during a Fox 5 interview shortly after the numbers were released.
"The most import things coming up are the debates," said an uncharacteristically upbeat Mr. Lhota when asked whether there was anything he could do to turn the tide. "It will be mano-a mano, Bill and me, and we'll be able to talk about the issues."
But host Greg Kelly pressed Mr. Lhota on criticism coming from supporters that he just isn't doing enough to win.
"People like you, this is what I've heard is. They think you have the requisite qualifications to be mayor. What they don't see, though, is the proverbial fire in the belly," he said. "You know, 'Where's Joe? Why doesn't he talk louder? Why doesn't he get out there more? Why isn't he more aggressive?' I don't know if you've heard these complaints," he added, "but they're kind of waiting for Joe Lhota to pull the trigger and really do this."
Mr. Lhota, however, insisted that he's out "18 to 20 hour a day" in all five boroughs.
"If people want me to jump up and down, I'll do that, but I don't think that's what's important to the people of the City of New York," he said, insisting that New Yorkers just hadn't started to pay attention yet.
"We need to get to a point where New Yorkers start to focus on the race. And they're not there yet," he said. "It's really fascinating to me."