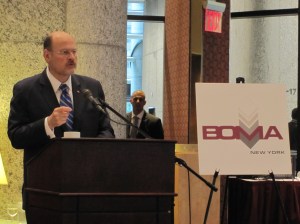 Joe Lhota has just 13 days left until voters cast their ballots, and it looks like he's planning to make the most of them.
Trailing by more than 40 points in public polls, the Republican mayoral candidate appears to have hit a reset button on his campaign, ratcheting up criticism of his rival, Bill de Blasio, following last night's spirited debate. 
In a fiery speech today in front of a real estate group, Mr. Lhota further demonstrated his new confidence.
He began with a thinly veiled joke about his opponent's plan to raise taxes.
"When you think about the billions of dollars in revenue that your buildings provide for the City of New York [it] is extraordinary. But I want you to think about this: you'd be giving a lot more if my opponent wins," he quipped to the Building Owners and Managers Association of New York.
He went on to attack Mr. de Blasio, contrasting his management experience with his opponent's and threatening a return to the bad old days of crime if Mr. de Blasio is elected mayor.
"We've seen that movie before, the dark days of the 80s, where Bill de Blasio learned the ropes. The problem is, he learned all the wrong lessons," charged Mr. Lhota, referencing Mr. de Blasio's early days serving in David Dinkins's administration. "It's the opposite of the tried and the true. It's the tried and the fail," he said, warning that he is already seeing creeping signs of chaos.
After the speech, Mr. Lhota continued to test out several new one-liners with the press.
"Did you miss me?" Mr. Lhota responded with a devilish smirk when asked by a Capital New York reporter about his new aggressive style during a scrum with reporters after the speech. "I'm back!"
"I don't know, I don't know," he said when pressed on where he'd gone. "I went into the debate last night loose, not worried, wanting to have a conversation with my opponent, with the people at home, sitting watching television. And that's what I did … I prepared to do what I've done my entire life: speak my mind, don't anyone put words in my mouth and just put the issues out there."
The attacks continued against Mr. de Blasio, who last night accused Mr. Lhota of using the "race card" in a controversial new ad.
"I was shocked! I was shocked. The idea that he threw out the race card was so beneath him and so beneath everything that he's ever stood for," Mr. Lhota said, insisting that "there is nothing in that commercial that is racial or racial overtones. He threw out the race card as if it was 25 cents in his pocket."
He also responded to criticism that the election often seems like a rehashing of the records of Mr. Lhota's former boss, Rudy Giuliani, and Mr. de Blasio's former boss, Mr. Dinkins.
"This all started with my opponent," he charged. "That's fine. I'm inextricably linked to Rudy Giuliani. But if that's the direction he wants to go in, I want to remind everybody that he worked for the biggest failure of a mayor that's ever hit the shores of the City of New York. David Dinkins was an abysmal failure right from the get-go. And so if he wants to talk about my experience working in the prior administration, I'll talk about his experience in the prior administration and how dangerous this city was from a lack of action."
Politicker reminded Mr, Lhota that he'd complimented Mr. Dinkins two weeks ago in a speech in front of the Association for a Better New York. But the candidate said he was simply being nice.
"I thought it was a gracious thing to do," Mr. Lhota said. "He was sitting right in front of me. If anything I'm a gentleman I'm not going to go in there and blast somebody right to their face."