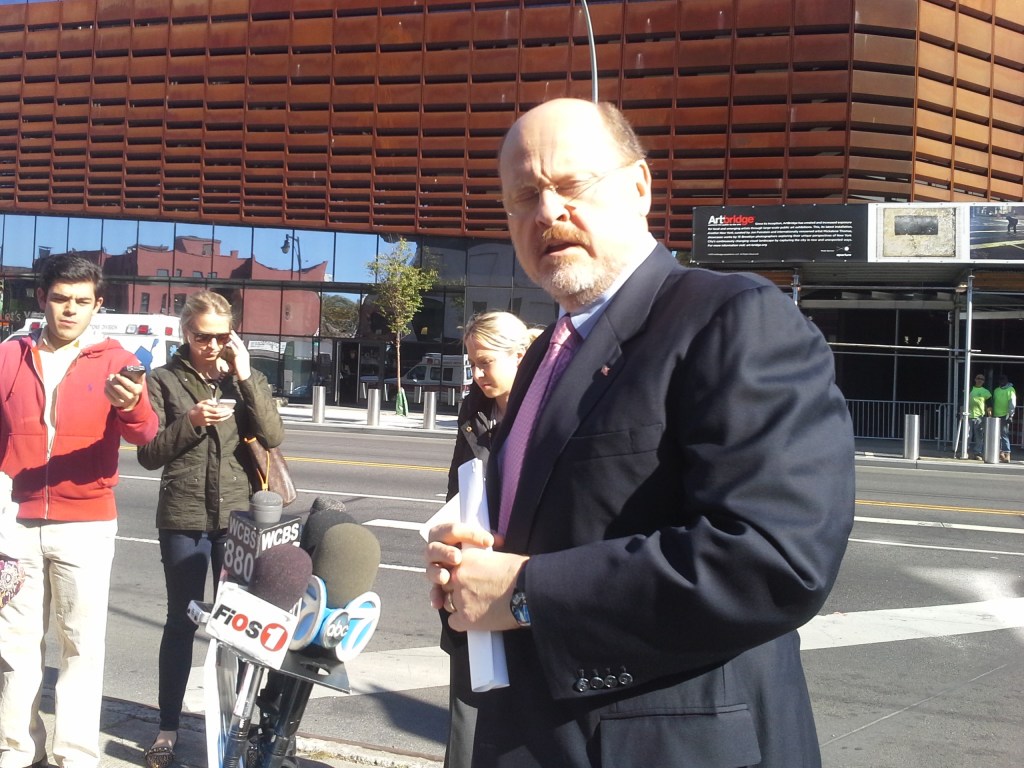 Taking about as many swings at Bill de Blasio as he can muster, Republican mayoral candidate Joe Lhota tacked to the left today to bash his Democratic opponent on the controversial Atlantic Yards development in Brooklyn.
At a press conference by the new Barclay's arena, Mr. Lhota accused Mr. de Blasio of trading his silence on affordable housing in exchange for developers's campaign contributions.
"Bill de Blasio has been all talk and no action when it comes to affordable housing," said Mr. Lhota, echoing charges Mr. de Blasio faced in the Democratic primary. "During this entire period of time Bill de Blasio has been absolutely silent. He's been silent because he's been bought. The people who built the Barclay's Center and promised to build all of the affordable housing have given contributions to him over and over again."
"Bruce Ratner actually hosted his 50th birthday party two years ago," Mr. Lhota added, referring to one of the project's lead developers, "and he continues to make sure he's been very silent on this issue and it's quite unfortunate."
Mr. Lhota, a former chairman of the Metropolitan Transportation Authority and Giuliani administration deputy mayor, has in the past spoken more favorably about the Atlantic Yards project, which has come under intense fire from critics who say it has failed to deliver on affordable housing promises after receiving taxpayer subsidies. In a Daily News report last year, Mr. Lhota was quoted saying that he "gave Ratner credit" for investing in the construction of a new subway station at the arena and asked how long people would "criticize this project before they realize this is good for New York City?"
Today, however, Mr. Lhota claimed he had "held Forest City Ratner's feet to the fire" to follow through on agreements made with the MTA during the station's construction.
"This is a perfect example of Bill de Blasio actually stating, over and over again, why affordable housing is important and then never, ever following through," he argued.
Reached for a response, de Blasio campaign spokeswoman Lis Smith fired right back at Mr. Lhota.
"Bill de Blasio is the only candidate in this race with a detailed vision for increasing affordable housing. As mayor, he will make sure that Atlantic Yards delivers the affordable housing that was originally planned," Ms. Smith said in a statement.