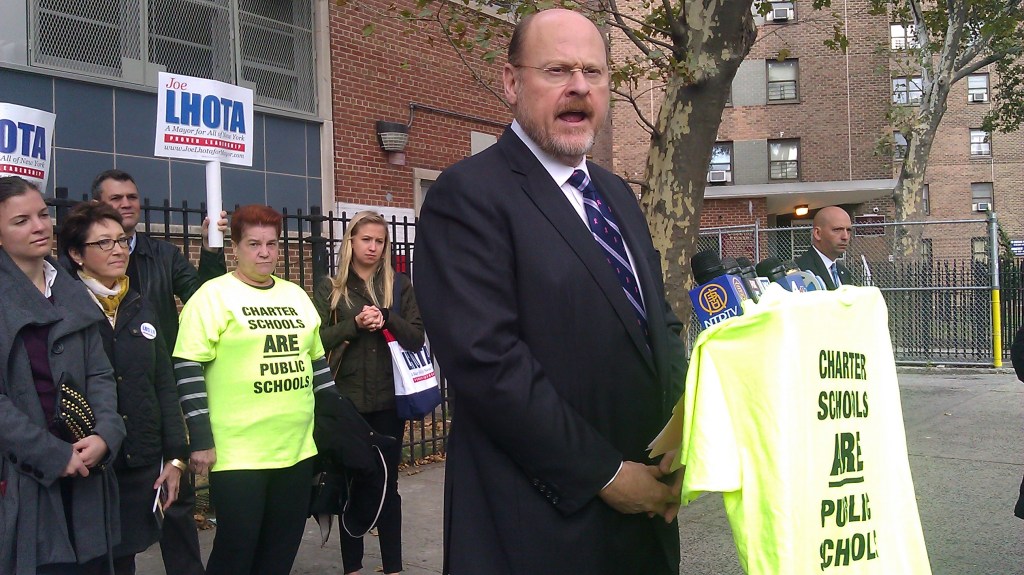 Joe Lhota has a suggestion for the president.
Barack Obama is visiting a Brooklyn school today, where he will be joined by Bill de Blasio, the Democratic nominee in the mayor's race, and a host of elected officials. But Mr. Lhota, the Republican Party's pick, thinks they should have a debate as well.
"He and the president ought to go off to the side and debate the issue of charter schools," Mr. Lhota said today about what he alleged was a disconnect between Mr. de Blasio and Mr. Obama on educational policies. "I know the president will win that argument."
If elected, Mr. de Blasio plans to charge wealthier charter schools rent, a proposal intensely criticized by both charter advocates and Mr. Lhota.
At a press conference held in front of an East Harlem charter school this morning, Mr. Lhota further argued that Mr. de Blasio is in the pocket of the teachers' union and will be ineffective in negotiating city contracts as a result.
"He will not go against the teachers' union. In fact, I'm so afraid of what's gonna happen–God forbid he's elected–and has to sit across the table and watch the UFT pick his pocket. His pocket is people's money—he has to represent all of the people of New York. It's not gonna be a fair bargaining session, that's for sure," he charged.
"You wanna talk about progressive?" Mr. Lhota went on to ask the reporters present. "Later on today go ask President Obama why he is in support of charter schools … The wave of the future is happening at charter schools."
As for Mr. Obama's event itself, which will be held at a technology-oriented high school, Mr. Lhota said he didn't feel snubbed by not being invited.
"They are never going to invite the opposition to a political event," he said. "No, I didn't get an invitation. No, I did not expect an invitation." ("I love the fact that the president is coming," he added. "I applaud him for understanding how important it is that we reform our public school system.")
The de Blasio campaign, which is far ahead in the polls less than two weeks before Election Day, did not immediately respond to a request for comment.