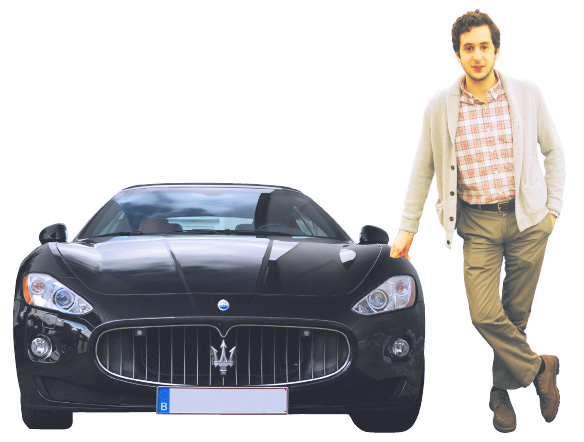 I have never been a car guy. That's not to say I don't appreciate cars—I certainly prefer them to MTA buses. I just don't find them as thrilling as birdwatching or listening to really good jazz piano.
In high school, I drove a Subaru Outback, and then, after I totaled it on a slick of black ice on a suburban back road, a Volvo station wagon. There was also my dad's Mini Cooper, which was the zippiest ride I'd ever piloted.
Until recently, that is. When I stepped into a garage full of Maseratis, Ferraris, Lamborghinis and other specimens of vehicular excellence in Englewood, N.J., my testosterone level jumped a little. I was going to drive one.
No matter that at the time I only had an interim license and I don't really drive anymore. I'd stopped by to test ride one of these exotic automobiles, owned by Gotham Dream Cars, a luxury rental service that also has outposts in Florida and California.
I didn't tell them about the license and the whole "not driving" thing.
When Rob Ferretti, director of operations at Gotham, told me we'd be going out in a black 2012 Maserati GranCabrio—top speed, 175 m.p.h; MSRP,  $142,800—my eyes widened.
What sets Gotham apart from other luxury car rental companies is that it makes the riding experience more affordable by offering autocross events in which customers can test-drive, for about $100, any number of vehicles. Gotham rents out about 1,000 cars per year, according to Mr. Ferretti, and daily rates run anywhere from $500 to $2,500.
Choices include the McLaren MP4-12C, whose sleek silhouette impressed me. So did the Ferrari 458 Italia, another good-looking ride. I worried, however, that it might sound like a helicopter. "The best thing about Ferraris is that they make such nice noises," Mr. Ferretti reassured me.
But his favorite car, he noted, was the Lamborghini LP560-4 Spyder. "If you were to ask me to pick one car to drive across the country, it would be that one" Mr. Ferretti said. "It's the most practical." Other cars include the Lamborghini Murcielago LP650 (are there any sports cars with simple names?) and the Bentley Continental GTC, which Mr. Ferretti called "the ultimate road trip car, if you're not looking for the bling."
The majority of customers, however, are looking for the bling. "Most people who rent exotic cars don't drive them," Mr. Ferretti said. "They rent them to make an impression. When you're walking down the street, not everyone knows you're wearing a $500 belt, but when you're in a Lamborghini, everyone assumes you're a millionaire."
I am assuming that the Maserati gave off the millionaire vibe as well. I felt obscenely important as I sat down in the driver's seat, beside Mr. Ferretti, and put the key in the ignition. Vroom. The car has a valved exhaust, which makes it sound loud and kind of scary. The car, an automatic, was so powerful that it drove itself out of the garage; I didn't even need to put my foot on the gas.
Unfortunately, the streets of Englewood I drove down do not let drivers go above 25 miles per hour. Which was fine. I was afraid of crashing the car, though it was slightly emasculating when, about halfway through my joyride, some doofus in a dinky sedan passed me on a two-lane avenue.
"I can't believe I'm being passed in a Maserati," I told Mr. Ferretti, who seemed remarkably calm as a complete stranger steered this rare creature through traffic.
"Yeah," he said, "but you're having more fun."
This was true. I was loosening up. Maybe I could be a car guy! When Mr. Ferretti directed me onto a ramp to get onto the highway for a stretch, I looked back to yield. A few cars coming. In my Volvo, I'd have waited, but then I remembered I was in a Maserati. I shot ahead into the middle lane, well ahead of the cars behind me. What pick-up! Needless to say, I was thrilled.
Further along on our journey, on a residential backroad, we passed a group of young women. I considered honking at them, to draw attention to my ride, but figured that would be uncouth. Sadly, they did not acknowledge me as I passed. But nearing the Gotham garage toward the end of the ride, a man behind me honked as we waited at a red light. Then he honked again, staccato-like, as I turned down the road toward Gotham.
I asked Mr. Ferretti, who owns a number of sports cars himself, what he thought the man was after. Was my driving that bad?
He said he thought I was doing fine. When you drive a sports car, he added, people wave and honk at you all the time.
I thought about this for a moment. "It's like being a pretty woman," I said, half-jokingly.
"Exactly," Mr. Ferretti told me. "Now you know what it's like."
It beats birdwatching.