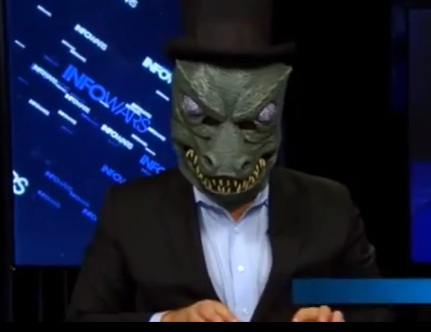 Alex Jones is the host of a conservative radio talk show out in Dallas, Texas, where he routinely spouts his (sane) beliefs that NASA is killing off thousands of astronauts and (obviously) faked the moon landing. As such, you can imagine how he feels about Obamacare.

Last week, Mr. Jones put up a video of himself in a lizard mask and a top hat, talking in a vaguely British (or at least upper-crust, like the voice of a fancy hedgehog) accent about why he loves the new health care system. We're guessing it's supposed to be satirical, but he makes a couple of good points!
[youtube=http://www.youtube.com/watch?v=dFQB5AnJYnk&w=420&h=315]
Frowny-face emoticon…though you'd think a guy who hated astronauts so much would be all about this government shutdown and trying to draw the least amount of attention to it as possible.