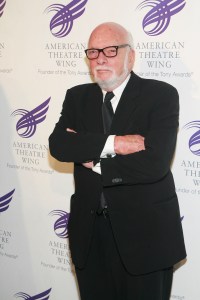 It may be curtains for Hal Prince at 48 East 74th Street, but the Broadway legend has had a very good run at the Upper East Side townhouse: Mr. Prince just sold his six-story neo-Georgian manse for a show-stopping $19.1 million, an impressive turn considering that he and wife Judith paid $12.5 million for the house back in 2009.
But then again, Mr. Prince did invest in acres of velvety red carpeting (the kind that's ideal for muffling usher's footfalls), chintz and cheetah-print fabric to jazz up what had been a rather sedate modern design. The result was, to say the least, theatrical. And while it might not have been to everyone's taste, it did have something for everyone. Except, that is, minimalists.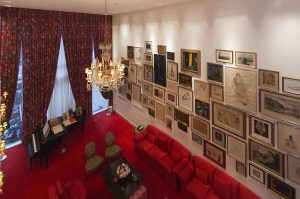 The sale set a record for the block of East 74th, which lies in the sweet zone between Madison and Park, a half block from a surfeit of stores. After all, one doesn't want the help—who get their own suite in this home's 2,000-square foot basement—to have to walk too far to pick up sundries. 
"It is a new record for the block and was possible because of the unique structure and interior decoration of this townhouse," said Brown Harris Stevens super-broker Paula Del Nunzio, who has had the listing since March. (Mr. Prince first listed the spread for $22 million with Fox Residential last November; it was most recently asking $19.95 million.)
Besides the somewhat unorthodox decor, the 7,375 square-foot townhouse has a number of unusual features, most notably, a central atrium that floods the house with light and a double-height living room. And whatever one thinks of the interior design, we  have to agree with Ms. Del Nunzio's listing assertion that the place is "uniquely cheerful."
The sale has yet to hit city records, so we can't say for certain who the buyer is. But we've heard rumors that a major costume change, a.k.a. a big renovation, is in the works.
As for Mr. Prince, he'll need to relocate his 21 Tony Awards (we'd recommend copious quantities of bubble wrap), but he can now add a real estate smash hit to his long string of Broadway successes, among them West Side Story, Cabaret, Sweeney Todd and Phantom of the Opera. In the words of Madonna (whom Mr. Prince has never worked with to our knowledge): the show is over… take a bow.