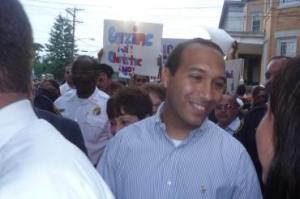 Take a look at these key towns and the dynamics in each driving local competition and putting pressure on other players above…
1. Bloomfield: Dems 11,223, GOP 3,739, Indies 10,633
The sprawling Essex County town gets PolitickerNJ.com's vote for the craziest contest of the season.
When longtime incumbent Mayor Ray McCarthy fell out of favor with local Democrats, he backed Republican Russell Mollica.
An ally of state Sen. Dick Codey's and Assemblyman Tom Giblin's, McCarthy nevertheless hated the local Joe D.-branded Democrats so much that he backed the re-election of Gov. Chris Christie.
While that move put him at even deeper odds with Bloomfield Democrats backing Mike Venezia, it also turned McCarthy into a B-grade supporting player in the Christie-DiVincenzo show.
Local Democratic polling shows Christie up by 16 in the Democratic town, and the Democratic ticket led by Venezia up by five.
Dems are spending almost $250k and the Essex GOP is pumping in $25k.
"The world is upside down," a source told PolitickerNJ.com.
Outcome: Venezia
2. Caldwell: Dems 1,466, GOP 1,092, Indies 1,995
This is the most brutal local contest this year – with the possible exception of Brick. At stake is local control of the town, which currently features three Democrats and three Republicans on the council with a Republican mayor. Two seats are in play. If Democrats can win one seat, they take over the town. If they take both, it's a five to one council. This about contracts: town attorney, judge, the officious types that roam the corridors of town power. All of that.
Key Dynamics: It's Sen. Dick Codey versus Sen. Kevin O'Toole in the ultimate Essex cobra versus wild mongoose showdown. Codey walked the town a week and a half ago, prompting O'Toole to call in Christie, who arrived complete with DiVincenzo.
If Democrats win, it's a big win for Codey.
Outcome: Advantage Republicans, with the Christie factor in a Republican town.
3. Brick: Dems 9,562, GOP 12,386, Indies 25,513
With the retirement of Mayor Stephen Acropolis, his handpicked successor Joseph Sangiovanni looked like a lock to be mayor with Gov. Chris Christie at the top of the ticket.
John Ducey, a Democrat, was, well a Democrat in a Republican-leaning town in Ocean County.
But Sangiovanni neglected to reveal that he had a personal bankruptcy and Democrats have 11th hour mailers out there tearing him to pieces.
Key Dynamic: Christie's overwhelmingly popular here, and could provide sufficient coattails for the Republican candidate.
Outcome: Not enough. Ducey wins.
4. Paramus: Dems 4,300, GOP 3,400, Indies 8,840
The Democrats run the town but they never win by more than 250-300 votes.
The last two Republicans in the town are up now and Democrats worry about not eradicating their rivals completely in this year with Christie at the top of the Republican ticket. There is genuine concern about a tidal wave from above.
Outcome: R's hold on to their two seats.
5. Fair Lawn: Dems 7,000, GOP 4,000, Indies 9,600
A fun one. It's the biggest town in the 38th District, where there's a legislative battle going down (Gordon v. Alonso). Two vacant seats on the local council are up for grabs.
Key Dynamic: Republican Mayor John Cosgrove is strong, so strong that many Republicans wanted him to take on incumbent state Sen. Bob Gordon (D-38). He didn't, and now Gordon in his hometown is fighting Cosgrove anyway. The Republicans are trying to run on the Cosgrove local brand. The Democrats are trying to ride Gordon's coattails.
Outcome: Pick 'em.
6. Hoboken: Dems 11,423, GOP 3,387, Indies 11,824
Incumbent Mayor Dawn Zimmer is running for re-election against challengers Assemblyman Ruben Ramos and Councilman Tim Occhipinti.
The key Dynamic: Ramos and Occhipinti are killing each other.
Outcome: Advantage Zimmer. The Christiecrat with a heavy Hudson indpendent streak is aided by the fact that the mayor's race is bracketed as a nonpartisan tilt separate from the governor's contest.
7. Edison: Dems 23,444, GOP 6,097, Indies 20,234
Tossed by establishment Democrats, incumbent Mayor Toni Ricigliano is trying to fight through challengers Councilman Tom Lankey, Dr. Subhanshu Prasad and former Township Planner Guy Gaspari.
The key Question: Can Middlesex County Democratic Chairman Kevin McCabe push Lankey through the field to claim his first meaningful victory as chairman?
Outcome: Too many Dems. Organization will matter. Lankey. It's highest vote-getter wins, too, no runoff.
8. Hamilton: Dems 17,000, GOP 10,000, Indies 27,000
Jumping into office when John Bencivengo spiraled into corruption, Republican Mayor Kelly Yaede seeks a full term now against Democratic challenger Barbara Plumeri.
The Key Dynamic: The gubernatorial and LD 14 state Senate contests are pressing down on the mayor's race but Yaede has spent years building a Teflon local brand.
Outcome: Advantage Yaede
9. Mahwah: Dems 3,352, GOP 4,285, Indies 7,282
A loser last year in his Bergen County Freeholder re-election bid, Republican Rob Hermansen is trying to reanimate on the same governing body that gave him his start in politics: the local town council. His opponent is fellow Republican Jonathan Marcus.
Key Dynamic: Republicans and Democrats are teaming up against Hermansen, who says he will count on the votes of the people, not political insiders.
Outcome: Advantage Marcus
10. Hillside: Dems 6,378, GOP 631, Indies 4,816
Incumbent Independent Mayor Joe Menza finds himself in a showdown with Councilwoman Angela Garretson and Councilman Jorge Batista.
Key Dynamic: As noted earlier this week by PolitickerNJ.com reporter Mark Bonamo, three heavyweights loom respectively behind Menza, Garretson and Batista: Gov. Chris Christie, U.S. Rep. Donald Payne (D-10) and former Union County Democratic Chairwoman Charlotte DeFilippo. It's a heavily Democratic town and in that environment Menza's ties to Christie could hurt him, but he has forged ahead with his own record as independent, at least, from powerful regional Democratic forces.
Outcome: Pick 'em. Maybe a runoff.
11. Parsippany Dems 6,655, GOP 10,717, Indies 12,193
Incumbent Mayor James Barbiero is up for re-election and in a staredown with Democratic challenger Councilman Jonathan Nelson.
Key Dynamic: Questions about Nelson's college background have haunted him through the closing days of the campaign, giving the incumbent momentum heading into Nov. 5. Christie coattails don't hurt in a Republican town.
Outcome: Barbiero. There are some rogue Republicans supporting the challenger but the mayor has stabilized the town's finances.
12. Elizabeth
State Sen. Ray Lesniak (D-20) is again fighting the allies of the sitting Elizabeth Board of Education who this time are playing defense to Lesniak's salvos to breach the local school board.
Key Dynamic: This election is only the second time in as many years that voters will consider school board candidates on the November general election ballot and not in April. Rafael Fajardo and his troops have long tormented Lesniak whenever the senator attempted to play against them in the April nonpartisan but now the rules have changed.
If Lesniak can take three seats he drops the BOE to a 5-4 majority in Fajardo's favor and sees mopping work in the hereafter, but Fajardo is on the phones 24-7 to prevent that from happening.
Outcome: Toss-up.