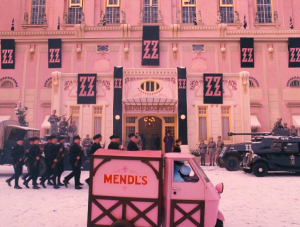 Even from the trailer, the mood of Wes Anderson's The Grand Budapest Hotel seems darker, more adult, than any of his work since Bottle Rocket. Sure, it's still super-whimsical, with a bunch of Anderson-ites (Bill Murray, Adrien Brody, Edward Norten, Jeff Goldblum, Owen Wilson, Jason Schwartzman) hanging out on the snow-capped peak of a European mountain in a pink hotel, punching each other in the face and offering quippy, seemingly non-sequitor one-liners.

[youtube=http://www.youtube.com/watch?v=1Fg5iWmQjwk&w=420&h=315]
But unlike Moonrise Kingdom, The Royal Tenenbaums or Rushmore, The Grand Budapest Hotel deals with themes like death and crime, with a somewhat fey Ralph Fiennes holding court in his little palace while seducing the clientele (including a remarkably aged Tilda Swinton). The appearance of new faces like Harvey Keitel, Willem Dafoe, Léa Seydoux (from the sexually explicit but Palm d'Or-winning Blue is the Warmest Color),F. Murray Abraham and Mathieu Amalric signals to the audience that despite its pastel decor, this Hotel is not for children.