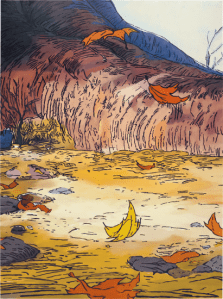 The 24-year-old Lucien Smith has been hot of late, with recent solo shows at Salon 94 and The Suzanne Geiss Company, so maybe it shouldn't surprise that the upcoming contemporary art sale at Phillips is opening with one of his paintings. Still, it's pretty remarkable that the lot is a work he made as a student: Hobbes, The Rain Man, and My Friend Barney / Under the Sycamore Tree (2011), which first appeared in Mr. Smith's 2011 senior thesis show at Cooper Union, "Imagined Nostalgia." The painting, which is estimated to sell for $100,000 to $150,000, will hit the block on Nov. 11, almost exactly a year after Mr. Smith's first New York solo show at Half Gallery.
The work, which measures a whopping 122 by 91 inches, depicts autumn leaves hitting the ground near the roots of a tree. According to the catalog, Mr. Smith's painting recreates a scene from an animated Winnie-the-Pooh film, sans Piglet: "This characterless background turns the animated children's fable into a classical landscape painting, focusing on the natural form of the tree and the wind, and harkening specifically back to Japanese folding screens, Monet's Weeping Willow, and perhaps most closely, Courbet's Oak Trees, 1854… Smith has erased the friend closest to Pooh who may or may not exist. He has removed Pooh's, and perhaps his own, id."
The painting is the first by Mr. Smith to go up for auction.